Posted on
Sun, Jul 7, 2013 : 5:32 a.m.
Now Hiring: Ann Arbor area job growth boosted by temporary hiring agencies
By Ben Freed
More people are currently employed in the Ann Arbor area than ever before, but hiring is not slowing down.
According to University of Michigan economists George Fulton and Don Grimes, earlier this summer Washtenaw County passed the previous jobs peak from the fall of 2002. A rapidly increasing labor force, the measure of people either working or looking for jobs, can hardly keep up with demand from employers.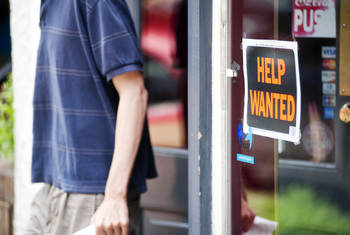 Daniel Brenner | AnnArbor.com
"There aren't enough people to fill the jobs right now,"
Manpower Inc.
staffing solutions leader
Dawn Simpson
said.
Manpower is a temporary staffing agency that helps find employees for a wide range of business.
"People say there's no work, but there's work," she said.
"When the economy takes a downswing they let go a lot of employees, then when it picks up they'll call a contractor or temporary service because they're not sure it's quite back yet, so they use us."
The jobs rebound is being led by the "professional and business services" sector, which includes a wide variety of jobs ranging from architects to basic scientists to lawyers. According to a report from the Michigan Department of Technology, Management, and the Budget, the sector added 900 jobs in May and 1,900 since May 2012, accounting for over half of the private sector jobs added in the past year.
"Temporary help companies are actually in that sector as well, and firms use them all the time," Grimes said.
"When you get a recovery, firms typically don't want to hire people on a permanent basis right away so they need to have someone produce the products they're making, so the way they add to their labor is through a temporary help agency. That means you get a big spike in the sector at the beginning of a recovery."
Because temporary agencies fit into business and professional services, it can be difficult to gauge which sectors are actually driving the comeback. Many of the agencies offer employment opportunities in areas that are hesitant to add new full time employees.
The darker side to temporary jobs is that they can disappear as quickly as they grow. Between 2007 and 2009, the sector lost over 3,400 jobs according to previous county economic forecasts.
"The first thing that happens after a recession is a lot of manufacturing companies use them to add workers when they get a spike in demand," Grimes said. "They also can keep some people on this status when things are going well and they're the first to disappear. They go down really quickly in a recession."
Simpson said Manpower acts as a stepping-stone for people entering or returning to the workforce. The Washtenaw County labor force grew by 2,400 in May and is up 5,000 over the past year according to the DTMB report.
"It's a very diverse group of people we're seeing looking for jobs," she said.
"There are people coming for second careers, people just out of school, and people saying 'how do I find the job.' But the industry is fun right now because it's booming. Everyone is taking a deep breath and saying wow we're on an upswing and that's an exciting time."
The company does background checks on its applicants and helps coach them on how to keep a job once they are placed. Grimes said companies often hire temporary workers full-time once they are more confident that the economy is on more solid ground.
"If you get a good temp worker in your plant or store or office, then you're going to offer that person a job if you need a permanent hire," he said.
"You figure out that this is a good person to have and you don't have to go through the job search process. In some ways a more efficient way to go, almost like an internship."
Simpson said that as the recovery has progressed, her agency has continued to field calls from employers for more jobs than she has people available. Economists expect that as the economy stabilizes, temporary hiring will level off and the rest of the professional and business services sector will begin to make up ground.
"When you look at the subsectors (within professional and business services) for the last year or so you're seeing that the growth is dispersing to more of the industries," Grimes said.
"You're seeing more of the professional, architecture, legal, computer programing and management consulting-type jobs. That means higher-paying jobs, which is a good sign."
Ben Freed covers business for AnnArbor.com. You can sign up here to receive Business Review updates every week. Get in touch with Ben at 734-623-2528 or email him at benfreed@annarbor.com. Follow him on twitter @BFreedinA2