Posted on
Sun, May 5, 2013 : 5:59 a.m.
Now leasing: 155 new luxury apartments in downtown Ann Arbor
By Lizzy Alfs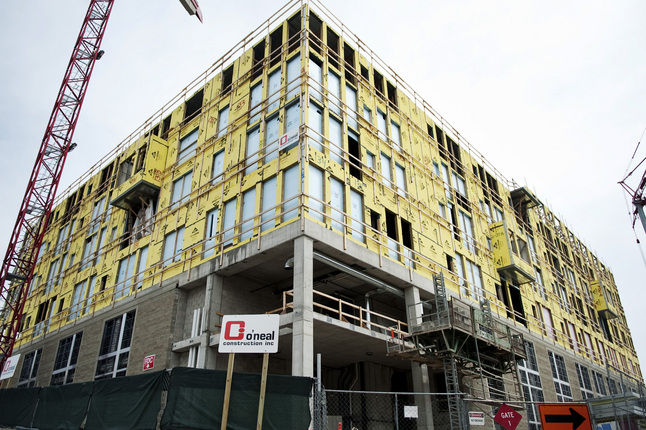 Daniel Brenner | AnnArbor.com
Editor's note: The number of parking spaces to be held by Village Green has been corrected.
Related story: Rent comparison: What can you get for $2,500 a month around Ann Arbor?
Luxury apartments in downtown Ann Arbor are no longer just for students.
The under-construction Ann Arbor City Apartments on the southeast corner of West Washington and South First streets is the first luxury apartment project built downtown in years that doesn't cater to students. It's designed for young professional renters as well as corporate relocation.
"It's midway between the YMCA and the core of downtown where U-M jobs are," said Susan Pollay, executive director of Ann Arbor's Downtown Development Authority. "I think it feels like, from what I saw, exactly one of the things needed in this marketplace."
"(Apartment) supply has just been so limited and the demand is growing," she added.
The developer started marketing the building's 155 high-end apartment units for rent in April. The monthly price tag: between $1,435 for a 600-square-foot studio unit and $2,675 for a 1,140-square-foot two-bedroom unit.
"If the thought of a cookie-cutter beige apartment sounds about as appealing as a root canal, then you're a perfect fit for Ann Arbor City Apartments," the project's marketing website says.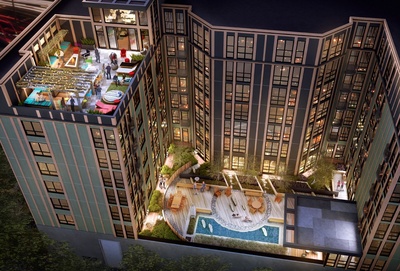 Courtesy of Village Green
The website unveils new renderings of the project and previously unreleased rental rates.
Developed by Farmington Hills-based Village Green, the Ann Arbor City Apartments boasts of lavish amenities targeted at the young professional crowd. The building will have an indoor clubroom with a party space, a full-service bar, dual-sided fireplace, flat-screen TVs and a games area.
A rooftop "Sky Park" will have built-in cabanas, a marble-top bar, grilling stations, an outdoor shower and a gas fire pit. There will be a 24/7 fitness center with a yoga patio, a Zen garden and a hotel-style lobby. Tenants can arrange dry cleaning and laundry, pet sitting and home package delivery.
The apartments — which include a mix of studios, alcoves, one bed, two bed and penthouses — will include stacked Whirlpool washers and dryers, wood floors, "sexy" bathrooms and luxury finishes.
Ann Arbor City Apartments

Quick facts
When it opens: Fall 2013

Address: 201 S. First St.
Units: 155
Stories: About 8.5 to 10
Price range: $1,435 to $2,675
Unit size range: 600 square feet to 1,140 square feet
Amenities: Rooftop "Sky Park" with cabanas, marble-top bar and grilling stations; indoor clubroom with a full-service bar; Zen garden; personal concierge service and a hotel-style lobby; 24/7 fitness center with a yoga patio; Whirlpool stacked washer and dryer; "sexy" bathrooms
"Picture soaring ceiling heights, larger-than-life windows, discreet pocket doors and translucent glass barn doors. Picture hardwood floors throughout the living space, gourmet kitchens with granite islands, built-in wine racks, contemporary cabinetry and brushed stainless steel hardware," the website says.
Marketing materials say the building scores 95 out of 100 points on the Google Map Walkability Index, meaning it's close to restaurants and bars, outdoor recreation, entertainment venues, schools, car or bike shares, and public transit.
The approximately $30 million project is taking shape on the site of a surface parking lot where an old parking structure was torn down several years ago. Village Green purchased the 0.57-acres of city-owned land for $3.2 million. The project broke ground in January 2012 and it is expected to open to tenants in summer/fall 2013.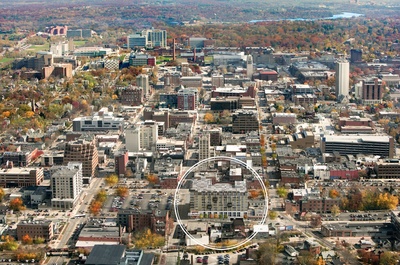 Courtesy of Village Green
It includes a 244-space parking garage to be owned by the city and managed by the DDA. Of the 244 spaces, Village Green will have 73 standard monthly parking permits and 73 off-peak monthly parking permits, which can only be used from 3 p.m. to 9 a.m. The remaining spaces would be for the general public.
Pollay said the parking garage will open before tenants move into the building, although the timing hasn't been determined.
Because of the grade of the site, the number of above-ground floors in the project varies from about 8.5 stories above grade at the northeast corner to 10 stories above grade at the southwest corner. The building rises 104 feet into the downtown skyline.
Of the 155 units, 16 will be classified as affordable housing for households earning at or below 80 percent of the area median income defined by the U.S. Department of Housing and Urban Development. In Washtenaw County, that means the monthly rent for a one-person household could not exceed $1,128 including the cost of utilities.
The Ann Arbor DDA also provided a $400,000 grant so that four of the affordable units are allocated to residents earning at or below 60 percent of the area median income. That would make $885 the maximum monthly rent payment for a one-person household.
There are more than 12 floor plans in the Ann Arbor City Apartments building. The least expensive unit is listed as $1,435 per month for a 600-square-foot studio. The most expensive unit is $2,675 for a two-bedroom, 1.5 bath at 1,140 square feet. The average monthly rent in the building is between $1,895 and $1,975. Tenants pay their own utilities.
It's unclear how many units Village Green has leased so far, but Jacqueline Trost, the company's director of public relations, said it is exceeding its goals. The company is operating a leasing office at 200 S. Ashley St.
"We are exceeding our goals and are getting more traffic and rentals than expected. We are very pleased with the leasing process so far," she said via email.
The project is coming online as developers across the country are targeting downtown Ann Arbor for high-end student apartment projects. A number of student high-rises have been built in the area surrounding the University of Michigan campus, including Zaragon Place, Zaragon West, Sterling 411 Lofts and Landmark. Meanwhile, a 14-story building is proposed on the corner of South Division and East Huron streets, and Ann Arbor City Council recently approved a plan for a high-rise to be built over Pizza House restaurant on Church Street.
Monthly rents in the new student apartment projects range between $800 and $1,745 per bedroom.
But the Ann Arbor City Apartments is different; it's intended for young professional renters and not students.
"I think Ann Arbor has always been two Ann Arbors," Village Green CEO Jonathan Holtzman said at the project's groundbreaking last year. "The University of Michigan is a very important part of Ann Arbor, but the business part of Ann Arbor is really why we're here doing this project today. Ann Arbor has developed into really a great city, so as you look at all the companies — automotive engineering, high-tech, biomedical — it is driving a lot of new jobs, and the jobs are attracting this professional who wants to live urban versus suburban."
Another developer is preparing to build a similar project called 618 South Main, located just south of downtown Ann Arbor. Developer Dan Ketelaar of Ann Arbor-based Urban Group Development said his 156-unit project will target young professionals and empty nesters who want to downsize and move closer to downtown.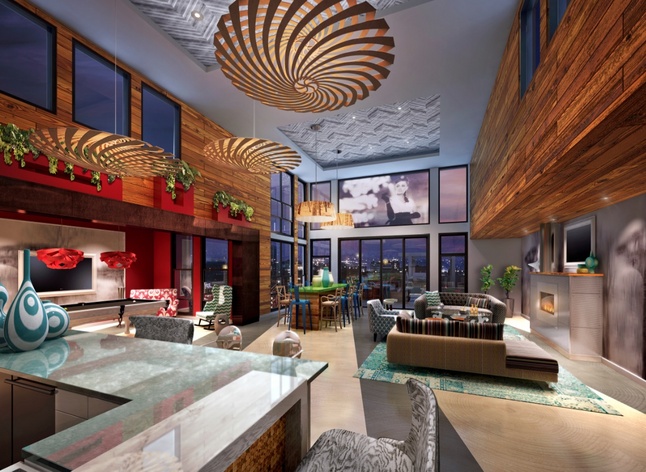 Courtesy of Village Green
Lizzy Alfs is a business reporter for AnnArbor.com. Reach her at 734-623-2584 or email her at lizzyalfs@annarbor.com. Follow her on Twitter at http://twitter.com/lizzyalfs.