Posted on
Sun, Jun 10, 2012 : 5:59 a.m.
Vendors making a dent in outdoor eating market downtown as Restaurant Week begins
By Ben Freed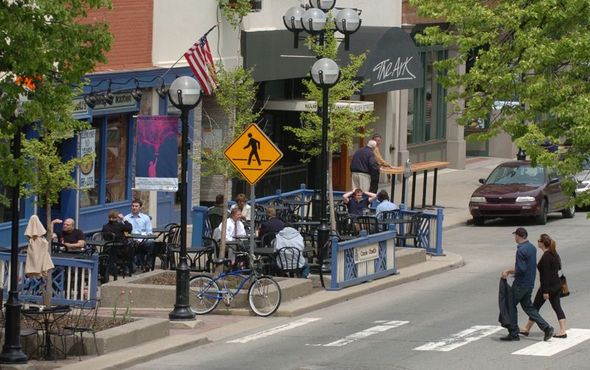 File photo
Many consider Restaurant Week to be the unofficial kick-off for the outdoor eating season in Ann Arbor. But it's not only restaurants that are in business on downtown sidewalks these days. Since 2009, there have been more vendors selling everything from hot dogs to used books appearing as the weather warms up.
In order to sell outdoors, all businesses in Ann Arbor have to apply for outdoor sales permits. According to City Clerk administrative specialist Kelli Johnson, those permits cost $1 per square foot per year.
"In the month of April, business owners get first dibs on the permits," Johnson said. "They reserve their space and then the general population can apply for any space not already reserved."
As the economy faltered in 2009, more and more of the general population began to take advantage of this opportunity. The city issued 193 permits in 2009, up from just 117 in 2008.
"I had a lot of experimental businesses," Johnson said. "People playing accordion, trying to sell scarves their grandma made, just about everything you could imagine. And as long as they weren't doing something illegal we gave them permits."
According to Johnson, many of the first-time vendors folded but those who found vending profitable quickly began applying for multiple permits, keeping the numbers up over the following years. In 2011, 196 permits were granted. One of those success stories is Dad's Dogs, operated by owner Marc Fruend.
Fruend started his own hot dog cart business in 2009, having previously worked for a company that supplied photochemicals to newspapers. He initially held one permit for 101 N. Main St.
"It's a fantastic location, because it's right across from the courthouse and courthouses rarely lack business," he said. "But in November I started to encounter more precipitation so I needed a plan B."
Fruend applied for and received a second permit underneath the overhang of the parking garage on Maynard. The location served him well with Borders as an "anchor store," but he now mostly uses it in the evenings when students are in town.
Seeing the successful business model has encouraged others to get into the game. Lisa Tallerday and her husband Ray celebrated their third day of business Friday at the corner of Liberty and Fifth Avenue.
"Our cart is called Wheelie Good Wieners," Tallerday said. "My husband came across the idea and it sounded like a fun thing to do in retirement so we decided to go for it. Business has been great and it's a lot of fun."
Johnson said there is not a lot of love lost between downtown business owners and vendors who sell on the street.
"The businesses do not appreciate the vendors at all. The vendors don't pay property taxes, so some stores do not appreciate the competition," she said. "Also, many businesses don't like the vendors to be right outside their stores. There's not much they can do about it though unless they buy the areas themselves."
Jon Gould, district manager for Main Street Ventures restaurants Palio, Real Seafood Co. and Carson's, said his restaurants open their outdoor seating as quickly as they can to compete with the outdoor vendors.
"We get going as soon as it's warm enough," Gould said. "We open according to the Michigan weather. People know our restaurants and enjoy the outdoor seating and we want to give them what they want as soon as possible."
While they don't always get along, the combination of vendors and outdoor seating at established businesses have combined to make outdoor dining an essential part of the Ann Arbor summer experience. So much so, in fact, that other municipalities have been contacting Kelli Johnson for advice.
"I've already received calls from Madison, Wisc., and San Antonio, Texas this year," she said."San Diego's municipality called last year to learn about how we encourage outdoor economic activity. I think outdoor eating in Ann Arbor is a fabulous thing, and people seem to truly enjoy it."
Ben Freed covers business for AnnArbor.com. Reach him at 734-623-2528 or email him at benfreed@annarbor.com. Follow him on twitter @BFreedinA2