Posted on
Thu, Dec 6, 2012 : 2:48 p.m.
Owner: Blimpy Burger must move as University of Michigan buys building
By Lizzy Alfs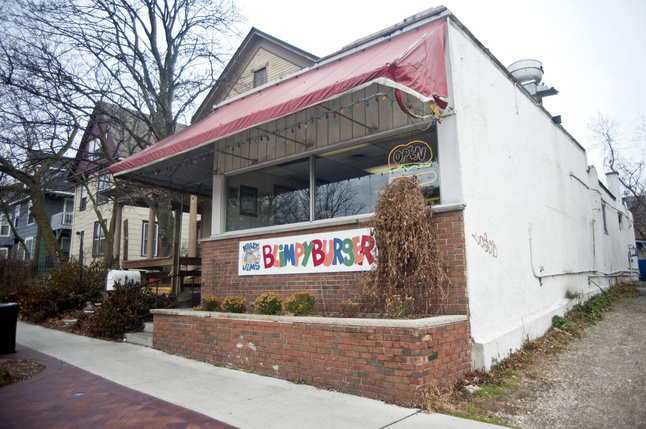 Joseph Tobianski | AnnArbor.com
After nearly 60 years of serving its iconic burgers to hungry customers, Krazy Jim's Blimpy Burger restaurant plans to close on Ann Arbor's South Division Street and search for a new location.
Owner Rich Magner said a deal between the University of Michigan and the property's owner, Patricia Shafer, means he will have to close Blimpy Burger in summer 2013. He wants to find a new location for the restaurant.
Shafer is the widow of Blimpy Burger's original founder, Jim Shafer.
"I don't know what the plans are," Magner said. "But basically, in a nutshell, we will be able to operate in this location into summer 2013 and we will be trying to put a deal together and look for a new location."
Magner worked at Blimpy Burger in 1969 when he was a student. After working in other restaurants, he returned to Blimpy Burger and purchased the business in 1993.
MLive
He's known that he would have to search for a new location for several weeks, but wanted to let things sink in before telling people.
"I'm very grateful for all the support we've had over the years and the regular customers we've had," he said. "I know that I've tried to be true to the Blimpy traditions…I understand people will be upset that Blimpy's will not be operating in this location, but we do hope to continue it in a different spot."
Magner said he hasn't looked at possible locations yet to relocate. He hopes to remain downtown and near the University's campus.
"I'd like to be near the University, and I'd like to be near the sports complexes, but you know, only half of my customers are students," he said.
"Because it has been here for so long, there is a large number of former students and a large number of townies who grew up on Blimpy burgers...they're Blimpy addicts."
When asked why Ann Arborites love Blimpy Burger, Magner responded: "The burgers are really good."
The restaurant, which is often packed at lunchtime and has limited seating, serves small burgers that customers can customize with extra meat and a range of toppings, including the popular fried egg. Blimpy Burger has received national attention as one of the best burger joints in America via the Travel Channel, and it was also featured on Man V. Food.
According to city records, Shafer owns the property with Blimpy Burger and two adjacent houses. Together, the properties have an assessed value of $540,900, making the estimated market value about double that. Records indicate a sale of the property has not been finalized.
Magner would not reveal the details of the deal between Shafer and the University of Michigan, but only said it was an offer "she couldn't refuse."
"This was an opportunity for her and I'm really happy for her," he said. "She has been good to me. I can't blame her in the least for taking the offer because it's very generous."
"There's no way I could counter the offer," he added.
U-M spokesperson Rick Fitzgerald declined to comment regarding the deal. The University owns a large parking lot adjacent to Blimpy Burger's building, and is currently building a $29 million addition to its Institute for Social Research building, just a block north of the site.
There are several residential structures surrounding the Blimpy Burger property, including houses at 401 and 409 East Madison Street, which are registered to former U-M athletic director Bill Martin. Two houses north of Shafer's properties are owned by David Copi and managed by Copi Properties. David's son, Sam, declined to comment when asked if they have received interest from U-M in their properties.
"At this point, we have not entered into an agreement to sell to the University of Michigan," he added.
Mayor John Hieftje told AnnArbor.com he had an indication U-M was in negotiations on the Blimpy Burger site. He said he'd rather the acquisition didn't happen.
"It saddens me," he said. "I would hope particularly that Blimpy Burger, which is kind of an icon in the community and something I've been going to since I was a teenager … I would hope they could reopen somewhere, but I'd really miss them on that corner."
AnnArbor.com reporters Ben Freed and Ryan Stanton contributed to this report.
Lizzy Alfs is a business reporter for AnnArbor.com. Reach her at 734-623-2584 or email her at lizzyalfs@annarbor.com. Follow her on Twitter at http://twitter.com/lizzyalfs.