Posted on
Mon, Nov 29, 2010 : 6 a.m.
Pacific Beach Burritos on Washtenaw in Ypsilanti Township to introduce full service dinner and alcohol
By Tom Perkins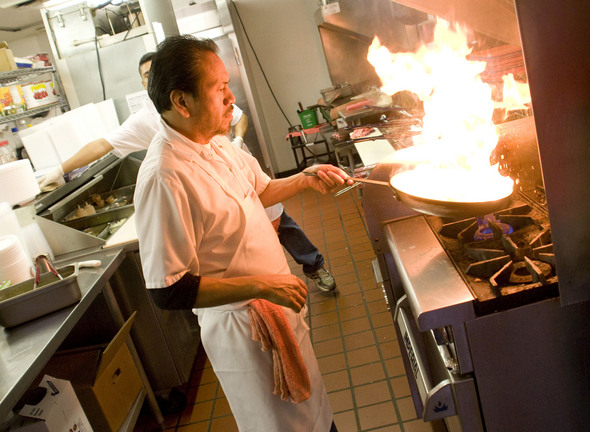 Tom Perkins | For AnnArbor.com
Pacific Beach Burritos owner Matt Rinna's jaw dropped when a friend who owns a full service bar and eatery in Plymouth told Rinna his nightly sales figures.
Rinna instantly knew his restaurant model had to change.
His less-than-a year old southern California/Baja-style taco and burrito restaurant was breaking even selling burritos made from fresh ingredients at $5 to $6. While he called selling fresh burritos at low prices noble, his sales aren't where he would like them to be.
That's where Rinna sees a new dinner menu, liquor license and a "Mickey Mouse" renovation providing a boost.
"The $6 burrito, that will carry us, but it's not where we want to be from a revenue cost," he said. "People who want to go out and celebrate and eat Mexican food, they want a margarita, and they want a Mexican beer."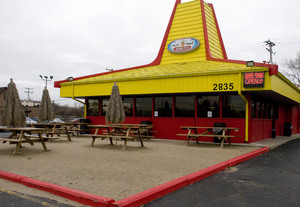 Tom Perkins | For AnnArbor.com
The Ypsilanti Township Board of Trustees recently approved Rinna's application for a liquor license and the paperwork will now go to the Michigan Liquor Control Commission. Rinna is hoping to celebrate the changes on Cinco de Mayo.
By design, Pacific Beach Burritos feels like a fast food restaurant when you step inside, even if the food is in another class and service slightly slower. Rinna aims to offer a clean, neutral appearance because the cheap food means costs must be covered in volume. It's the kind of interior that urges someone to eat and make room for new customers, Rinna says.
But that will change with the low-scale renovation. Rinna doesn't want to sink any significant sum of money into the project, so he's taken the advice of his employees and friends and developed a better way to do it on the cheap.
At 3 p.m. each day, employees will dim the lights, bring out tablecloths, light candles and roll out some plants. Instead of self-serve at the counter, a wait staff will serve dishes ordered from the dinner menu, ranging in price from $8 to $14.
Although the new dishes will be slightly more expensive than Pacific Beach's standard tacos, burritos, flautas and current options, they are also more complex. Rinna's chef, Jose Chaves, grew up in Santa Ana, Calif. Rinna says that's where the chef learned to make magic out of a simple fish like tilapia. The plates will come with additional sides that a la carte items don't include.
Rinna says the idea is to make Pacific Beach more comfortable, but not too much so, like his favorite restaurants in Mexico.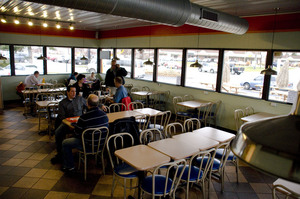 Tom Perkins | For AnnArbor.com
"We all had this common, shared belief while traveling through Mexico that the uglier the place was, the better the food was going to be," he said. "If you go to a place that looks too pretty, typically you're going to get average Mexican food. It's not about people coming in and feeling like they're in some Taj Mahal or even Chili's. It's about the food."
Rinna explained his travels through Mexico and working with Chaves got him acquainted with the "Mickey Mouse" approach.
"The people down there can rub two sticks together and make gold," he said. "It's about making it appealing enough for people want to be at the restaurant, but it's not about impressing people with oak mahogany."
Rinna attended college in San Diego and spent countless days on the Baja Peninsula in Mexico. After losing his job in the tech industry in Michigan, he drew his inspiration from the seafood dishes at the taco carts and small restaurants in Mexico.
"That's what we're going to bring forward," he said. "Those fishing boats would come up to the shore and ten minutes later everything would be on a taco cart ready to eat. It's all about taking tilapia and making it taste like it's something incredible. That's all in the sauce preparation and chiles."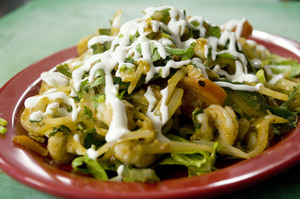 Tom Perkins | For AnnArbor.com
The current southern California and Baja-inspired menu receiving so much attention will remain available, even when the lights are dimmed. People will still be able to order carry out and the drive through will stay open.

Rinna said he has regularly engaged his customers for suggestions on improvements, and many have told him they would prefer sit down service. Rinna opened Pacific Beach with the intention of attracting investors and franchising, and he believes this is the next step toward reaching that goal.
"Our food costs are high, our prices are low, and that's what has been challenging for us," he said. "Our customers love the taste and love the price, but we believe we're leaving money on the table at night.
"I'm confident with the addition of full service dinner and alcohol, that will push us into another realm."
Tom Perkins is a freelance writer for AnnArbor.com. Reach the news desk at news@annarbor.com or 734-623-2530.