Posted on
Thu, Oct 6, 2011 : 7:48 p.m.
Wall Street protests come to Ann Arbor
By Kellie Woodhouse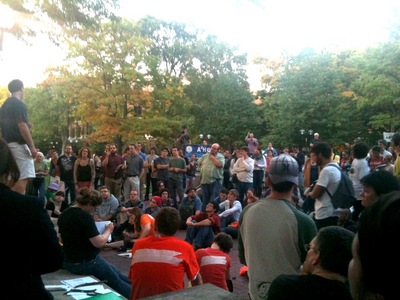 Kellie Woodhouse | AnnArbor.com
A movement that has spurred tens of thousands of people to protest unemployment and perceived economic inequality has hit Ann Arbor, attracting hundreds of people, including high school juniors to third-year graduate students.
A crowd of at least 200 people gathered on the Diag on University of Michigan's Ann Arbor campus on Thursday night to support the Occupy Wall Street movement, which began as a large-scale protest in New York City on Sept. 17.
Protestors have been sleeping out on Wall Street ever since, speaking out against corporate influence on the political sphere, unemployment and the banking industry.
The New York City protest has spread to cities throughout the nation. Activists from Detroit are currently planning a sleep-out protest. It is unclear whether Ann Arbor activists will join the Detroit protest or create their own.
"We are gathered here to connect with one another, gather resources and spread information," Ann Arbor resident Whitney Miller shouted as the crowd repeated her. "We're here because we are tired of being ignored, we're tired of struggling to meet our basic human needs."
"We are the 99 percent," someone from the crowd yelled.
The 99 percent has become a slogan for the nationwide protest. It refers to the 99 percent of people not included in the wealthiest 1 percent of the population.
Thursday night's gathering was an assembly meeting meant to organize protest supporters in Ann Arbor. People were asked to volunteer based on skills, such as writing, organizing and video editing.
"Occupying Wall Street itself is not necessarily important. What's important is the spontaneous formation of a mass movement that is opposed at a minimum to the banks," said graduate student Nicholas Niemuth, who attended the event with U-M group International Students for Social Equality. "Any kind of political movement, if it's going to have an effect, has to be national and Ann Arbor has a large campus with a lot of students."
Eric Warton, a junior at Saline High School, said he attended the assembly as a part an assignment with his AP government class, which requires students to attend a political event.
Warton, who just finished learning about the Boston Tea Party, said he was interested in the current Occupy Wall Street movement.
"It's a great cause: Striving for economic equality," he said. "I think it'll reach congress."
Graduate student Maria Robles remarked on the large size of the movement.
"I want to be a participant of that," she said.
Carrie Beattle, an Ann Arbor resident who supports the Wall Street protesters, said she thought of traveling to New York City "before the local scene started to emerge."
She said she was particularly passionate about how "corporations influence on politics," but added that she wasn't convinced the movement would take off in Ann Arbor.
"I really don't think it's going to be very bustling here. There are a lot of students and there are a lot of classes that people attend," she said. "The cities where it is really booming is where there's a lot of people that have graduated and are unemployed. I don't think Ann Arbor has a culture like that."
Speaking to the crowd, Ann Arbor resident Will Hutchinson criticized the university.
"This university acts more like a corporation every day," he said. "Right now this university is asking hard working nurses to take cuts in health care, overtime and working hours. That's not right."
The U-M hospital has been in heated contract negotiations with several nurses unions since the spring. The nurses and their employer disagree on healthcare and overtime allowances, among other things.
U-M freshman Zach Feldman said the protest "is a way for us to voice our opinion as a generation."
"As a generation, we haven't really been active," he said. "We've been like the sleeping generation."
Fellow freshman Julius Goldberg agreed.
"This movement is a way of saying we're not going to just stay quiet any longer," he said. "We're not just going to sit and watch that 1 percent become more and more of the wealth of this country."
This story is being updated.
Kellie Woodhouse covers higher education for AnnArbor.com. Reach her at kelliewoodhouse@annarbor.com or 734-623-4602 and follow her on twitter.