Posted on
Tue, May 4, 2010 : 6:01 a.m.
Pink Pump shoe store to open in ex-John Leidy Shop in Ann Arbor
By Paula Gardner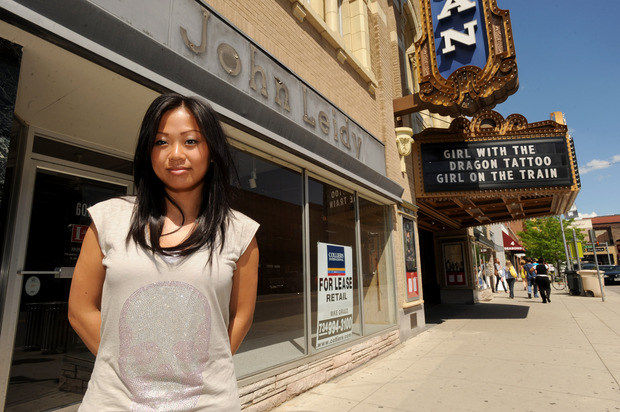 Angela J. Cesere | AnnArbor.com
A growing Oakland County shoe boutique will open its fourth store this summer in Ann Arbor in the building that housed the John Leidy Shop on East Liberty for decades.
With the change, the space that used to sell some of Ann Arbor's most traditional housewares will turn into what Pink Pump owner Tawny Thieu calls "very girly chic."
"It will be very fun and very cool," Thieu said. And, she added, "all pink.''
Thieu had been looking for a location in Ann Arbor for the past year. Thieu plans to open by early July as her store joins the growing fashion hub in the State and Liberty corridors.
She wanted to be downtown, close to campus and amid independent apparel retailers, since her business feeds off the type of foot traffic that a clustering of boutiques can generate. And she liked the proximity of some chain stores, but not too many restaurants.
East Liberty, she said, fit that definition perfectly.
And the longevity of the John Leidy Shop in that location added to the incentive to pursue the space, she said.
"It's just a testament to how great Ann Arbor is for supporting local boutiques," Thieu said.
Pink Pump sells high-fashion shoes priced from $20 to $400, with clothing and accessories added to the mix.
The 1,150-square-foot store will follow the Pink Pump's business model: "There will always be something new, something unique and always in a great price range," Thieu said.
Her other stores - located in Bloomfield Hills and the downtowns of Birmingham and Royal Oak - focus on items from designers like Michael Kors and Betsey Johnson, with many shoe styles in brands ranging from Jessica Simpson, L.A.M.B., Hunter and Minnetonka.
Thieu will bring that mix to the Ann Arbor store. Missing will be the UGG brand, due to other retailers already carrying those products nearby.
But Thieu will add what she calls "comfort shoes."
"With this being a great college town … it's important not to have just high-fashion and trendy (shoes) but also comfort pieces," she said.
Merchandise will change rapidly, Thieu said, with some pieces on reorder, but many others part of a single order. As a result, Thieu said, her customers stop in often to see what's new and newly marked-down.
That strategy builds a loyal clientele, she said. So does her attention to store design, where shoes and clothing are incorporated into a single, easy-to-navigate floorplan.
The location on East Liberty attracted a lot of interest as soon as the John Leidy Shop closing was announced, said listing broker Mike Giraud of Colliers International.
"A lot was from food users," he said, but many other retailers sought the space, too.
The asking rental rate of $37 per square foot per year put the space at the upper end of citywide retail rates, thanks to the proximity to South State and campus.
The corridor also is raising its profile as a retail destination, Giraud said. Borders, Urban Outfitters, Bivouac and American Apparel are all destination stores, with many nearby boutiques - like Poshh, Allure and the new Pitaya on South State adding to the draw for shoppers. Another apparel hub is taking shape closer to Main Street.
The number of changes on the East Liberty corridor have been higher than in typical years, said Newcombe Clark, a commercial real estate agent at Jones Lang LaSalle and member of the Downtown Development Authority.
"But the stores coming in have been really interesting," he said, mentioning lab cafe and Tomukun Noodle Bar as food-related examples.
"(The stores) coming in are unique," Clark said. "So that's good to see, since shoppers will have more reasons to choose Ann Arbor over a strip mall or shopping mall."
Paula Gardner is Business News Director of AnnArbor.com. Contact her at 734-623-2586 or by email. Sign up for the weekly Business Review newsletter, distributed every Thursday, here.