Posted on
Thu, Aug 8, 2013 : 5:58 a.m.
Plans, renderings submitted for 2 housing projects in downtown Ann Arbor
By Lizzy Alfs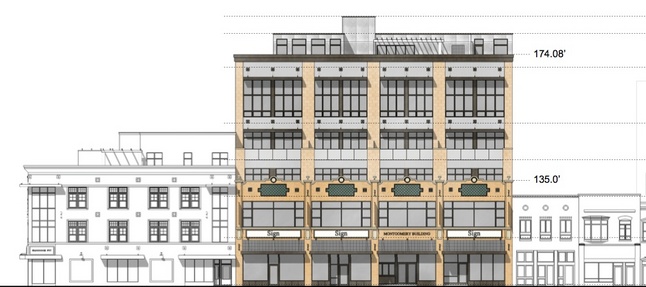 J Bradley Moore & Associates
The owners of two adjacent buildings in downtown Ann Arbor are moving forward with plans to construct rooftop additions for apartments or condos.
Brad Moore of J Bradley Moore & Associates Architects, the architect for both projects, submitted plans last week to Ann Arbor's Historic District Commission for 121-123 E. Liberty and 210-216 S. Fourth. Moore hosted a citizen participation meeting for the projects in July. (Read more)
Joseph Tobianski | AnnArbor.com
The submittal includes never-before-seen renderings of the projects — which together, would result in about 36 new downtown housing units. Both proposals also call to redesign or restore the buildings' original facades.
"We're hoping the combination of the two projects transforms Fourth Avenue, which has been so hard to pull back from where it was in the (1970s)," Moore told attendees at the public meeting in July.
J Bradley Moore & Associates
Plans for the one-story 121-123 E. Liberty St. building call to rebuild two upper floors that were destroyed by a fire in the 1950s, as well as an additional partial fourth floor that would be set back from the building's facade. Running Fit owners Randy Step and Steve Angerman own the building and are proposing the project.
Six housing units would occupy the building addition, and those would be marketed for lease or for sale. Along with the building addition, Step and Angerman want to replace the building's enameled steel panel siding with a brick veneer facade.
Courtney Sacco | AnnArbor.com
The second project, proposed for the adjacent building at 210-216 S. Fourth, calls to construct three additional floors on top of the existing two-story building. The addition would be set back from the front facade and contain roughly 30 housing units.
Building owners Joe Barbat and David Ebner of Barbat Holdings LLC also wants to restore the facade to resemble the former Montgomery Ward's department store, which occupied the building until it suffered a fire in 1960. Barbat and Ebner are proposing to rebuild the storefront in mostly masonry/brick.
Both projects require approval from Ann Arbor's Historic District Commission before the plans can move forward to Planning Commission and City Council.
Related coverage:
Lizzy Alfs is a business reporter for AnnArbor.com. Reach her at 734-623-2584 or email her at lizzyalfs@annarbor.com. Follow her on Twitter at http://twitter.com/lizzyalfs.