Posted on
Wed, Jun 20, 2012 : 5:55 a.m.
Polly's Country Market in Saline will close Saturday
By Ben Freed
The Polly's Country Market in Saline will close its doors for good at 6 p.m. Saturday. As it attempts to clear inventory, the store will be offering a sale on all items starting Thursday.
A letter distributed to employees last month stated the closing would be June 19, but Kim Kennedy, president of parent company Polly's Food Services Inc., said the Saline store will remain open until Saturday.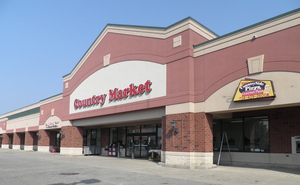 Lizzy Alfs | AnnArbor.com
The May 21 letter to employees blamed "inflationary rent, higher property taxes and escalating payroll taxes and insurance coverage costs" behind the decision to close the store.
The Saline store _ one of 10 stores operated by the family owned, Jackson-based company _ has also been under increased competition with the opening of a nearby Walmart store several years ago.
Store Director Mickey Zippay estimated that about 50 of the 70 employees who worked at the Saline store remained as of Tuesday, and that about half of the employees would be applying to work at the other Polly's locations. The nearest store to Saline is located in Dexter.
According to two employees who reached out to AnnArbor.com, Polly's had asked employees to sign an agreement to transfer to another location or their employment will be terminated. They also said that the company has cut hours and ignored seniority for employees who did move to other locations.
"People are saying they'll just work 'till the doors close and they can't come to work anymore," said one employee. "Many people can't afford to transfer out. I don't have a vehicle myself, and there's no way I could bike to the next nearest location. It's 20 miles away."
According to Kennedy, the company has asked employees to make an official petition for transfer if they want to move to another location, but it has not asked anyone to sign an "agreement."
Robert Fetter, an attorney specializing in labor law at the firm Miller Cohen PLC, said that employees could be denied unemployment benefits if they refuse a transfer to suitable alternate location.
"If there's a similar-enough type job in a close enough location, then the company would have a case that they can force a transfer," Fetter said. "But if there's substantially different working conditions, lower pay, or significantly fewer hours, then you wouldn't lose your unemployment benefits for refusing to take that job."
Polly's operates 9 other stores in Michigan in Adrian, Dexter, Brooklyn and Jackson. The location in Saline opened in 2007 after it took over a closed Farmer Jack location.
Ben Freed covers business for AnnArbor.com. Reach him at 734-623-2528 or email him at benfreed@annarbor.com. Follow him on twitter @BFreedinA2