Posted on
Wed, Feb 16, 2011 : 9:55 p.m.
Arbor Hills Crossing developers detail plans for new Ann Arbor retail center on Washtenaw
By Janet Miller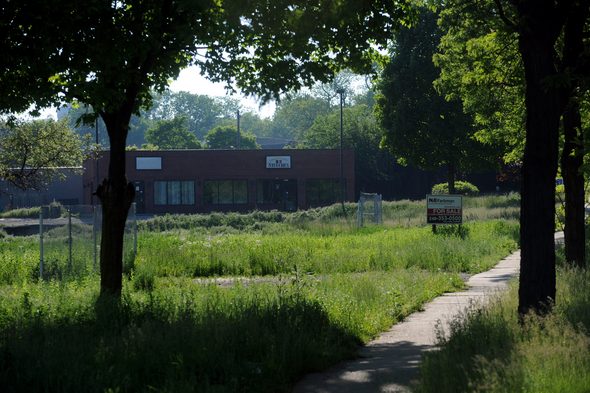 Despite some questions about traffic flow and economic feasibility, a proposed Ann Arbor retail development called Arbor Hills Crossing at the corner of Washtenaw Avenue and Platt Road received a mostly warm welcome by the close to 40 neighbors and residents at a public meeting Wednesday night to unveil the plan.
The piece of property, positioned on busy Washtenaw Avenue along the key Ann Arbor/Ypsilanti corridor, has stood vacant for several years. The previously proposed project for the property, the Shops at Arlington, fell victim to the economic downtown and foreclosure.
Arbor Hills Crossing will be smaller scale - 90,700-square feet vs. 138,000-square-feet for Shops at Arlington - and won't include underground parking, another feature of Shops at Arlington. Developers will submit plans to the city early next month.
A partnership between Ann Arbor's Campus Realty and Chicago-based North Shore Properties Group purchased the 7.45-acre property last May. North Shore will handle tenant selection and leasing.
Tom Stegeman of Campus Realty, development manager for the project, said he's optimistic this won't be another false start and hopes to see construction begin by the end of the year or early- to mid-2012. Construction would take about a year, he said.
While Arbor Hills Crossing is being billed as mixed-use with retail and "flex" space, most of the project would go to retail. The rest would be for office or other uses and some residential may be possible, depending on market conditions, Stegeman said.
There will be no large anchor, such as the Whole Foods Market directly across the street, and he hopes to attract national chains, regional players and local businesses. It will include a mix of tenants, including most likely food use, apparel and specialty retailers.
"It won't be just discretionary retailers, but retailers of things people need," Stegeman said.
Occupancy the center worried resident Carl Akerlof at the meeting.
"There's an enormous amount of vacancy in Ann Arbor. How are you going to make money?" he said.
But Stegeman said the partnership has been in serious discussions with a number of potential tenants and there is strong interest.
"You won't see it compete with Briarwood and it won't be Big Box central. We may have one or two larger users, but it will be a good mix," Stegeman said.
Still, Akerlof wasn't convinced. "I'm not going to volunteer to invest in it," he said after the meeting.
Resident Dan Harrison said he came not expecting to like the proposal but left having changed his mind.
"It's really nice," he said. "This is a much better plan than the previous one, which seemed like another giant mall."
Arbor Hills Crossing won't be a typical retail mall, Stegeman said, and will fit Ann Arbor's personality and be "more funky."
It will be bike and pedestrian- friendly, with 10-foot sidewalks running along Platt and for the full Washtenaw Avenue frontage, and a number of sidewalks entering into the center and meandering within it.
A former site of a gas station and a car dealership, there will be a brownfield cleanup of hazardous materials at the site. The project will seek eligibility from city and county governments for tax increment financing, and is expected to be eligible for a total of $3 to $4 million in tax reimbursements paid over a number of years, said Anne Jamieson, of AKT Peerless Environmental Services.
Some details of the project unveiled at the public meeting at Tappan Middle School:
• There will be four buildings, three with Washtenaw Avenue exposure. Two of the four buildings will have partial second stories, with the other two single-story. The buildings will be spaced apart, with pods of parking separating them.
• Access will be off of Washtenaw and off of Platt, said architect Robb Burroughs, principal of Ann Arbor-based reFORM studios. Traffic exiting out of the center onto Washtenaw could only turn right, but a new traffic light at Platt and Washtenaw would allow traffic to turn left.
• Construction materials include brick and steel along with steel and wood screens marking and anchoring some of the corners of the buildings. Stegeman promised "high quality architecture and appropriate scale."
• There will be a rain garden, a pocket park and the wetland on the property will be preserved and improved, such as removing invasive species.
• There will be parking for 300 cars.
For some people at the meeting, the project will be a marked improvement from its current state of being empty and overgrown, they said.
"There's a lot of nothing there," architect Robb Burroughs said. "And a lot of junk."