Posted on
Thu, Feb 10, 2011 : 2:51 p.m.
New Ann Arbor retail development planned for ex-Shops at Arlington land on Washtenaw
By Paula Gardner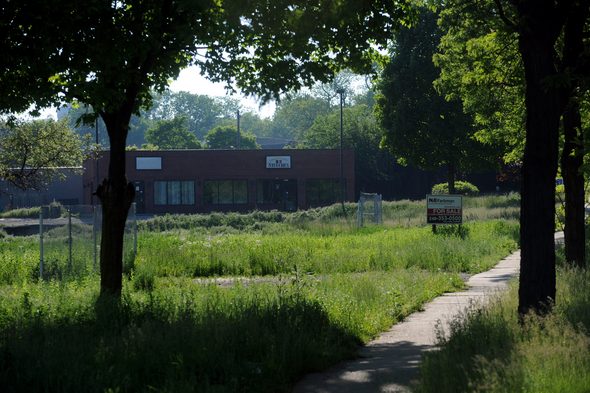 A 7.2-acre property on Washtenaw at Platt that was primed for retail development but languished through foreclosure and the economic downturn now is heading for new life as a mixed-use development.
Arbor Hills Crossings is the new name for the former "Shops at Arlington," and its new owners - a partnership between an Ann Arbor family and Chicago real estate developers - expect to submit site plans to the city in early March.
They're planning close to 90,000 square feet of new construction in four buildings, with retail, and some office or "flex" space. The location is 3000 Washtenaw at Platt, extending east to the edge of the now-vacant lot that used to house an automotive dealership.
"That site has been sitting there for several years, and it's not getting more attractive," said co-developer Tom Stegeman of Campus Realty in Ann Arbor. "We want to build something nice that cleans it up and actually happens."
Much of the space will be retail, Stegeman said: "Given the location, retail is a pretty compelling use."
Stegeman and North Shore Properties Group expect to spend coming months working with the city's planning staff on the site plans. The development team also plans to roll out initial plans at a neighborhood meeting at 5 p.m. Wednesday, Feb. 16, at Tappan Middle School's cafeteria.
The new plans so far have been downsized from what previously was approved: The Shops at Arlington called for a 138,000-square-foot retail center with underground parking, some office and condo space, and national-tenant retail space spread over 5 buildings.
That $9 million development project was approved by City Council, but the site plans expired in fall 2009 as lender Comerica Bank sought to sell the property following foreclosure. It was sold to Stegeman's RSW Washtenaw LLC for $3 million in May.
Gordon Mathews and Bill Conlin, the original developers of the Shops at Arlington, sought to capitalize on the tremendous success of Huron Village, just north of the property and home to Whole Foods and Barnes & Noble, among other mostly national tenants.
They also were ready to fulfill the needs of retail and restaurant chains who sought a premium location in the Ann Arbor market in the mid-2000s, as vacancies were low and rental rates soared in the Washtenaw Avenue corridor.
Mathews and Conlin had developed Huron Village with the same goal, since the property, at the corner of Huron Parkway, was one of the highest-traffic intersections in Washtenaw County.
The tenant lineup for Shops at Arlington included retailers like Talbot's, J Jill, Chicos, Black House/White Market and Joseph A. Banks, Conlin said in fall 2006 as he obtained letters of intent from tenants seeking to move into the planned center. Rental rates reportedly hit the $40-per-square-foot range, a price comparable in Ann Arbor to prime locations like Starbucks at Arborland and some spaces on South State Street.
Stegeman said North Shore will lead the leasing efforts. He described the climate as "changed" since the Shops at Arlington era.
"We're generally looking at a range of specialty retailers that are perhaps not in the market," he said. Some regional retailers also are likely, as are local stores.
"Ann Arbor is a unique market," Stegeman said. "I'd like to look to some local retailers."
Many national retailers halted expansion plans by 2008, but now have been reentering the Ann Arbor market, seeking potential new locations, industry experts said. Recent "big box" examples include Costco, Menard's and Dick's Sporting Goods.
"We're starting to come out of a recession," said Malachy Kavanagh, a vice president at the International Council of Shopping Centers in Washington, D.C.
"There wasn't a lot of confidence because the consumer was in such a funk … (so retailers) weren't looking to take on new space. That's starting to change."
Further, even as the economy starts to move into a more confident period, retailers need to anticipate future needs for store expansion, Kavanagh added.
More specifics on Arbor Hills Crossing will be rolled out at the neighborhood meeting, Stegeman said, including how a brownfield component for cleanup of the former auto dealership could fit into the effort.
He also said that he's talked to the city about setting up a traffic signal at Platt Road, the western border of the property, which had been approved in the Shops at Arlington plan.
Cleaning up the property is part of the development team's goal, Stegeman said. The former Stucchi's building and older two-story buildings closer to Platt will be demolished, too.
Stegeman's company, a second-generation Ann Arbor real estate development firm, has been active in recent years in development near-campus housing for University of Michigan students. The efforts have resulted in quality projects, like brick townhouses on Washtenaw south of Hill, local developers have said.
Now, Stegeman said, he's been focusing on upgrading a highly visible vacant lot.
"It would be nice to see something happen there that is nice, that is achievable and that people like," Stegeman said. "It really is a community site … We'd like to do something that recognizes that."
Paula Gardner is Business News Director of AnnArbor.com. Contact her at 734-623-2586 or by email. Sign up for the weekly Business Review newsletter, distributed every Thursday, here.