Q&A with former GM exec Bob Lutz: Political 'propaganda' clouds debate over bailouts, Chevy Volt
Posted on Fri, Jul 1, 2011 : 5:59 a.m.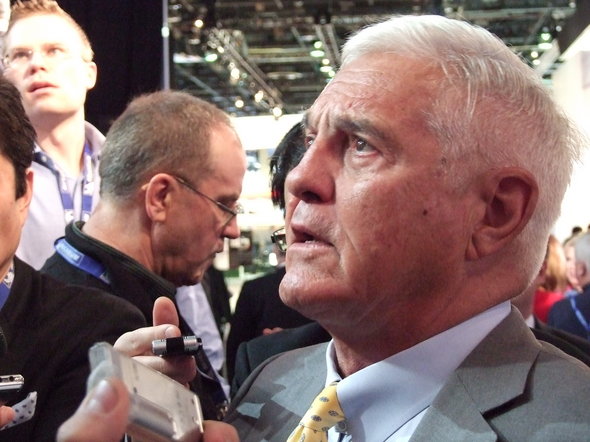 Nathan Bomey | AnnArbor.com

Bob Lutz is becoming more apolitical by the day.

Lutz — who once famously dismissed the prospect of climate change as, shall we say, hooey — is not what you would call a tried-and-true conservative or liberal.

Lutz, former vice chairman of global product development for General Motors and a former executive for several other carmakers, said he's sick of "propaganda from both sides" of the political aisle.

He's fed up with conservatives' criticism of the federal government's bailout of GM and Chrysler. And he describes the Obama administration's proposed increase in fuel economy requirements as "draconian."

At the same time, he's baring all about the auto industry in his new book, "Car Guys vs. Bean Counters: The Battle for the Soul of American Business," in which he derides the incompetent managers who drove the U.S. auto industry into the ground.

In an interview with AnnArbor.com, a typically quotable Lutz said:

—Toyota is weighed down by bad management.

—The Obama administration had "zip to do with the Chevrolet Volt," in contrast to claims by some conservative critics. At GM, Lutz personally championed the creation of the Volt, which can travel about 40 miles on a single charge of electricity before a gasoline engine kicks in. The Volt, named North American Car of the Year in January, was one of Lutz's top product achievements at GM.

— Michigan's battery tax credits would probably work but might have come "when the technology wasn't quite ready yet."

— He was not surprised by the bumpy introduction of the pure electric Nissan Leaf, which had ignition problems and has been hurt by slow production.

Lutz, who lives in the Ann Arbor area, recently spoke with AnnArbor.com's Nathan Bomey. Excerpts:

AnnArbor.com: How many bean counters are left in the auto industry at this point?

Bob Lutz: Well, of the necessary kind — that's the kind that do the accounting and set the direction and help with the budgets — I would say probably the same percentage as before. But they're the useful ones.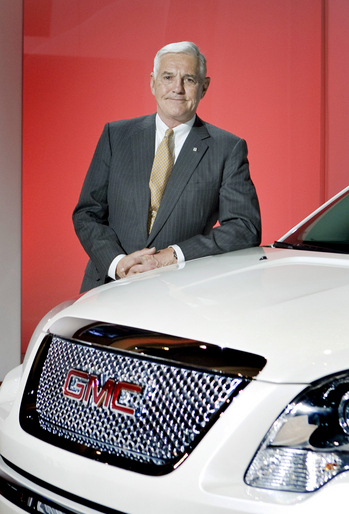 John F. Martin | General Motors
The ones that aren't useful is the bean counter mentality in top management, where, for some inexplicable reason, they try to run a business without accepting any risk.
If you always plan for the safe solution, you're going to wind up with guaranteed mediocrity. It's the same reason why Hollywood makes so many bad movies, or mediocre movies. Very few studios are willing to bet on something that somebody hasn't done before a dozen times and has proved reasonably successful.
Right now all three automobile companies are run by people who are not like that. Because Dan Akerson hasn't been trained for 30 years on doing it the wrong way. Neither has Alan Mulally of Ford. And neither has Sergio Marchionne over at Chrysler.
They have a much healthier, more logical, more basic approach to the business.
AnnArbor.com: Toyota recently shook up its management structure.
Lutz: Well, that company's loaded with them.
AnnArbor.com: They've collected too many bean counters over time?
Lutz: Well, in the early days of Toyota, there was a great deal of creativity and skill at work. They got a substantial lead in quality on everybody else about 20 or 25 years ago. That lead has dissipated now, and they got a lot of bad publicity a year and a half ago.
Now they're just another car company, they're no longer superior in quality, they're no longer reputationally superior.
They have a genuine problem now. Playing it safe with design was always a good strategy for them because Toyota sold for other reasons. They sold for resale value and freedom from defects.
But now that those two reasons have sort of dissipated, now people look at Toyota like any other car and they say, 'Well, why should I buy that boring looking thing?'
AnnArbor.com: Dan Akerson recently got into some trouble with Republicans for promoting increased gas taxes. Is that something that you'd like to see?
Lutz: Well, look, we've got the federal government mandating draconian increases in fuel economy. The automobile industry is going to be forced to sell vehicles with very expensive fuel-saving technology at prices way, way higher than the average car costs today.
A lot of people will still want full-sized sport utilities with V8 engines — and the automobile industry is going to say, 'I'm sorry, sir, those are rationed now, we can't afford to sell too many of those, or we'll blow our numbers.'
So my point is, in order to make these expensive fuel-saving vehicles palatable to the American public, it's important that the American public be incentivized to buy them. And the only way I know how to incentivize people is by making the fuel more expensive.
AnnArbor.com: How badly does your blood boil when you hear the term Government Motors?
Lutz: It does and it doesn't because I guess it's a realistic description. First of all, the government had no choice but to bail out the American car companies.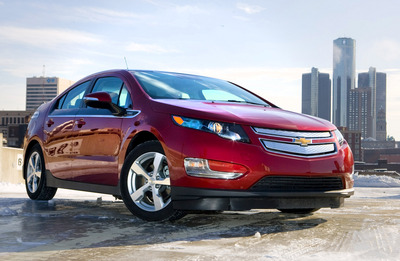 Courtesy photo
You just cannot let General Motors and Chrysler fail because doing so would have caused all the suppliers to fail, which would have caused Ford to fail, and it would have been millions of jobs lost in the United States. We would have had an economic Armageddon in this country. …
There's such a Pavlovian reaction to anything the Obama administration does, good, bad or indifferent. It's seized upon to demonstrate the evils of the Obama administration.
The Chevy Volt — which we started on in 2007, so it was hardly a product of the Obama administration — was depicted as, 'See, that's what you get when the government owns an automobile company. They produce this silly little electric vehicle that nobody wants and then, to make people want it, they have to put a $7,500 tax credit on it. Isn't that just exactly what you would expect from a left-wing, socialist government?'
Well, a couple things wrong with that. The Obama administration had zip to do with the Chevrolet Volt, and the $7,500 tax credit for electric vehicles was put in by the Bush administration.
Unfortunately the American public gets bombarded by propaganda from both sides, and it's very, very hard to get a balanced perspective on what's actually going on.
That's one of the things I try to take on in the book. In the book, I take on the left as well as the right.
AnnArbor.com: There's a lot of debate right now about how fast battery costs are going to drop. What's your assessment?
Lutz: They will drop, but it will never get to the point where an electrically powered car like the Volt can be offered at the same price as a conventional gasoline car.
AnnArbor.com: Even with potential second-stage lithium technologies?
Lutz: Well, let's say it triples the energy storage. … Personally on the Chevy Volt, I think 40 miles electric — before the gasoline engine kicks in to recharge the battery — is probably about the right amount for most people.
If the energy density of lithium-ion triples, you would probably elect to cut the size of the battery by two-thirds — and that would take a lot of money out.
AnnArbor.com: Nissan has had some troubles with the rollout of the Leaf.
Lutz: Yeah.
AnnArbor.com: What do you think has gone wrong there?
Lutz: I'm not an electrochemical engineer, nor did I engineer the Nissan Leaf, but I always had a bad feeling about that. …
When we did the Volt, we said, 'No we're not going to use more than 50 percent for battery life.' … Nissan (is) using 80 percent of the battery on every charge and discharge. That shortens the life drastically.
And then, the lithium-ion in the Volt is liquid cooled. That's a very expensive cooling system … but it maintains a very, very even temperature for the batteries.
Well, the Leaf uses air cooling — where they're blowing forced-air through it. So there were some engineering solutions and decisions in the Leaf that GM elected not to pursue. Whether those are the cause of the problems, I don't know.
AnnArbor.com: Michigan distributed a big chunk of tax incentives to battery companies under Gov. Jennifer Granholm. Do you think those commitments were smart? Will they be successful?
Lutz: I would say over time, yes. But there's a possibility that it may have been somewhat overdone and that the massive investments were undertaken at a time when the technology wasn't quite ready yet.
There's a fond belief among certain people that now that electric vehicles are here, that's what everybody wants because everyone is an environmentalist and everybody's going to buy these.
Well I'll tell you what, for the next few years it's going to be 5 percent of the population. And if it goes to 5 percent of the market, that could be considered very good news for the Chevy Volt, Nissan Leaf and other vehicles.
Now, with the upcoming very severe fuel economy regulations, there will be, of course, government-mandated pressure to adopt these technologies and they're going to have to be sold to customers whether they want them or not. So that presumably will help battery companies.
AnnArbor.com: How do you see Michigan's economy developing over the next few years?
Lutz: I'm extremely positive. And this is another good side of the bailouts. … A lot of people have done a lot of hard work to get the American automobile industry straight.
AnnArbor.com: You recently personally invested in a local electric motorcycle startup.
Lutz: Yeah, Current Motor.
AnnArbor.com: What impressed you?
Lutz: Well, I like the people, I like the product. I'm a big Segway fan. I've got four Segways. I just personally love electric transportation in the right applications. For local stuff, where you're only doing a few miles, electric transportation is clearly the answer.
Current Motor contacted me. They live just up the road, so I zipped over and had a look. I was very impressed with what they were doing, put in not-very-significant amount of money. I wish them well, and I think it's going to succeed.
AnnArbor.com: Do you see yourself being an angel investor in the future?
Lutz: It depends how my own personal net worth develops.
AnnArbor.com: Fair enough.
Lutz: If it goes great and I have some that I can gamble with, yes. A lot of it is going to depend on how well the book does.
Contact AnnArbor.com's Nathan Bomey at (734) 623-2587 or nathanbomey@annarbor.com. You can also follow him on Twitter or subscribe to AnnArbor.com's newsletters.