Posted on
Tue, Aug 6, 2013 : 11:40 a.m.
Real Estate One has deal to acquire Ann Arbor-based Charles Reinhart Company
By Lizzy Alfs
In a move that will merge two of Washtenaw County's top real estate brokerages, Real Estate One plans to acquire the Charles Reinhart Company, officials from both companies announced on Tuesday.
"It's a great opportunity for us to expand, certainly, our footprint in Washtenaw County," said Real Estate One President Dan Elsea. "Reinhart is a wonderful organization, so we're pleased to have them part of our family."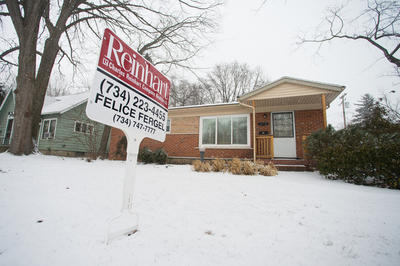 AnnArbor.com file photo
Elsea said the deal isn't finalized yet, but employees of both companies were notified Tuesday morning. Financial details of the deal weren't immediately available.
"We have signed a letter of intent," he said. "We'll do our mutual due diligence and hope to have a closing in the next four to six weeks."
Founded as Elsea Realty and Investment Company in Detroit in 1929, Southfield-based Real Estate One now operates 54 offices across the state, including locations in Ann Arbor, Saline, Milan and Dexter. The company, which has 1,700 agents, also owns Max Broock Realtors and Johnstone & Johnstone Realtors.
Real Trends Inc. listed Real Estate One as the 30th largest broker in the U.S. based on 2012 closed sales volume. The company has consistently ranked as one of the four top brokerages in the Washtenaw County market.
Founded in Ann Arbor in 1971, the Charles Reinhart Company operates six residential sales offices, a commercial and property management division and a mortgage company. Reinhart has 250 agents and employees, and it has remained a leading real estate company in Washtenaw County since its inception.
Real Trends Inc. ranked Reinhart No. 196 on its list of top brokers in the U.S. based on 2012 closed sales volume.
Elsea said once the deal is finalized, Reinhart would be a division of Real Estate One, but keep its own brand and name. He said current management and staff will remain the same, as will the Reinhart and Real Estate One offices. Eventually, the merged company would open additional Washtenaw County offices, Elsea said.
"Our intent is to have two separate brands in the market: Real Estate One and Reinhart," Elsea said.
"The current Reinhart owners, Dave Lutton, William Miller and Marsha Volchoff will be staying in their positions as well," a news release says.
Lutton released the following statement Tuesday morning:
Reinhart has a 42-year history of excellence and deep community ties, and Real Estate One has an 84-year history of the same. Combining our resources makes us both stronger, while keeping our local roots intact. Reinhart will be an integral part of the fabric of Washtenaw County for many years to come. We will be gaining more technology, marketing tools, and educational opportunities for our sales associates. It's an exciting time for us and the local real estate market.
The move comes less than a year after Pennsylvania-based Howard Hanna Real Estate Services merged with Ann Arbor's Edward Surovell Realtors. At the time of the merger, Howard Hanna announced plans to grow its Michigan presence, including opening new offices in Washtenaw County and hiring employees across the state.
Washtenaw County has experienced rebounding home sales and increased sale prices as the economy improves. Home sales in the county increased 9.2 percent in 2012 over the previous year, while the average home sale price showed steady improvement for the fourth consecutive year.
The Ann Arbor Area Board of Realtors has reported 1,433 home sales so far in 2013. The average sale price year-to-date in the county is $253,939, up from $211,602 during the same time period in 2012.
Lizzy Alfs is a business reporter for AnnArbor.com. Reach her at 734-623-2584 or email her at lizzyalfs@annarbor.com. Follow her on Twitter at http://twitter.com/lizzyalfs.