Posted on
Wed, May 5, 2010 : 9:55 a.m.
Redesigned recipe leads to sales increases for Domino's Pizza
By Nathan Bomey
Domino's Pizza successfully convinced scores of customers to give it a second chance after reconfiguring its core pizza recipe. Now the question is: Will those customers stick around?
The Ann Arbor-based pizza delivery chain said Tuesday that its same-store sales at U.S. locations had increased 14.3 percent in the first quarter of 2010, compared to the first quarter of 2009. That reflected a significant increase in foot traffic as customers opted to give the new pizza a try.
The company's revenues soared 18.4 percent in the first quarter to $381.1 million and profit rose 3.2 percent to $24.5 million.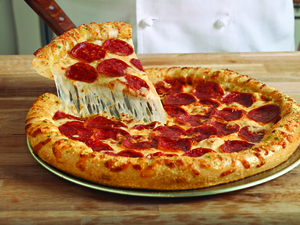 Photo courtesy of Domino's Pizza
"A remarkably better pizza, and our honesty in how we told consumers about it, is paying off with a revitalized overall category - with Domino's leading that trend," said J. Patrick Doyle, CEO of Domino's, in a statement. "We couldn't be more pleased with the success of our new and inspired pizza."
Despite the gains, Domino's shares slipped $1.94 yesterday to $14.12. The stock had climbed back to $14.62 by 10:23 a.m. today.

The Associated Press said yesterday's decline was attributable to general market fears about the global implications of the financial crisis in Greece.
Customers' embrace of the new pizza recipe reflects early confidence Domino's expressed in its first-quarter sales.
Completely redesigning a core recipe can be risky, but Domino's had tested its new product with focus groups for about 18 months before introducing it, and experts said they were confident that it was not a mistake.
The improvements in foot traffic at Domino's partly reflect an aggressive marketing campaign designed to draw attention to the new pizza recipe, which features new sauce, cheese and crust.
Former Domino's CEO David Brandon, who resigned to become athletics director at the University of Michigan but still serves as chairman of Domino's, had cautioned that the first-quarter traffic spike was not sustainable.
Still, the company believes that it's well positioned to continue producing single-digit revenue increases even without the marketing campaign.
Contact AnnArbor.com's Nathan Bomey at (734) 623-2587 or nathanbomey@annarbor.com. You can also follow him on Twitter or subscribe to AnnArbor.com's newsletters.