Posted on
Tue, Mar 13, 2012 : 2:42 p.m.
Restaurant on Ann Arbor's East Liberty will close when new tenant is found
By Paula Gardner
Changes on downtown Ann Arbor's East Liberty Street will continue this year as soon as a new tenant can be found to take over a restaurant that opened less than a year ago.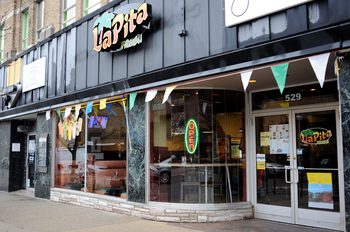 Melanie Maxwell I AnnArbor.com
La Pita Fresh, located at 529 E. Liberty, has been listed for lease.
The move represents owner Kasey Chammout's disappointment with Ann Arbor's response to his Middle Eastern restaurant.
"Students spend their money on beer, pizza, chicken wings, then Chinese and sushi," he said.
The restaurant opened in spring 2011, filling the storefront that had been occupied by Beyond Juice.
Chammout also operates other restaurants, including a popular La Pita Fresh near Wayne State University. He's been in the industry since 1990.
He'll continue to operate the Ann Arbor restaurant until a new tenant can be found to take over the 1,864-square-foot space.
The store is not doing badly, he and broker Mike Giraud of Swisher Commercial said. It received positive reviews. "It's just not doing what he wanted in terms of the numbers," Giraud said.
Competition among other Middle Eastern restaurants also played a role, Giraud said. Several others operate within a few blocks.
The pedestrian traffic on East Liberty is one factor affecting his decision, Chammout said: It's dropped by up to 8,000 per week, he estimated, since the Borders flagship store closed last fall. He's also cited aggressive panhandling as a concern.
The change also comes amid multiple shifts in downtown Ann Arbor's restaurant scene, including the closing of Champion House and Parthenon.
Chammout said he hopes to return to Ann Arbor with another concept.
"I may give it another shot in a few years," he said. "I do like the town."