Posted on
Sun, Apr 10, 2011 : 5:55 a.m.
As more Middle Eastern restaurants compete for business in Ann Arbor area, is there such a thing as too many?
By Janet Miller
With two new Middle Eastern restaurants ready to enter downtown Ann Arbor, two existing restaurants ready to expand, a market already flush with Middle Eastern food and even an area Big Boy restaurant offering Mediterranean favorites such as hummus and tabouli on its salad bar, the Ann Arbor area has become a magnet for the cuisine.
With Middle Eastern restaurants ringing the city and popping up in Ypsilanti, the fiercest competition may be in downtown Ann Arbor.
It may, some brokers and restaurant owners said, be overkill.
"The pie is only so big," said Jim Chaconas, commercial broker with Colliers International. "The food is good, but I think we're at the saturation point."
When Jerusalem Garden opened in 1987, it was the lone restaurant of its kind.
"No one knew what baba ganoush was," said Ali Ramlawi, Jerusalem Garden owner. "Now, it's mentioned in Bud Light commercials."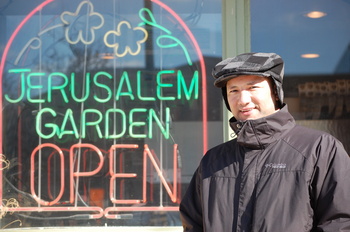 Janet Miller | For AnnArbor.com
With the recent addition of two Middle Eastern eateries, downtown and the University of Michigan campus area will have at least nine restaurants that serve Middle Eastern fare.
In the greater Washtenaw County area, there are close to 20 restaurants serving Middle Eastern fare, from the sprawling Palm Palace on Carpenter Road to the cozy Star's Café in the Westgate Shopping Center.
The fierce competition didn't sway Kassem Chammout from expanding into downtown Ann Arbor with his third La Pita Fresh at 529 E. Liberty St., in space once occupied by Beyond Juice. He expects to open by early May.
He opened his first La Pita Fresh in Dearborn, followed by a second near the campus of Wayne State University. He said his Ann Arbor location would be fashioned after his WSU site, with fast, affordable food and a menu heavy with sandwiches for students and workers on the run. While he will have seating for 40, he expects 70 percent of his business to be delivery and take out.
He will be less than two blocks from the new La Marsa Mediterranean Cuisine at 301 S. State St., in the old Cosi space, which is also scheduled to open in May, and two more short blocks from Jerusalem Garden.
"I think the market is there. Let the best restaurant win," Chammout.
But Ramlawi said the market has maxed out.
"It's going to be cannibalism. I predict one or two will fold in 24 to 36 months," he said, referring to Middle Eastern restaurants in the area.
The growth could launch a price war where no one turns a profit, he said.
Yoshi's, a Middle Eastern spot on East Liberty within shouting distance of Jerusalem Garden, closed in January 2010 after being in business less than six months.
Still, Ramlawi said, the competition will make him improve.
"We need to find ways to become more efficient, friendlier and fresher. It will keep us on top of our game," he said. In fact, Ramlawi plans to open a second, smaller Jerusalem Garden near downtown, in the fall.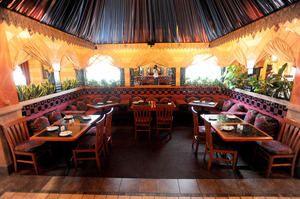 Angela J. Cesere | AnnArbor.com file
"I'm not going to sit back, either," he said.
Areas outside downtown are also seeing Middle Eastern restaurants take root. Ali Hijazi opened Zamaan Cafe in the Plymouth Green Shopping Mall seven months ago and hopes to open a second Ann Arbor location soon. He also has a location on Packard Road.
Hijazi said he's not surprised that more Middle Eastern eateries are opening in Ann Arbor.
"I know a lot of people who are interested in the area. They come to Ann Arbor, they see the big crowds and they feel it's a good business location," he said. "But the key isn't who is going to open. The key is who is going to stay."
With the city jammed with Middle Eastern restaurants, it's important to separate from the pack, Hijazi said. "We have a lot of new plates you don't typically see in an Arabic restaurant. We don't stick to just a Middle Eastern menu."
That means dishes that suit American tastes and desire for variety, such as cauliflower in some of the dishes or topping hummus with eggplant.
"Everyone loves eggplant here," Hijazi said.
With the largest Middle Eastern population in the United States in Dearborn, it's not surprising that Michigan has seen a rise in the number of Middle Eastern restaurants setting up shop, said Andy Deloney, vice president for public affairs at the Michigan Restaurant Association.
At the same time, diners have grown more willing to sample a variety of foods, he said.
"The biggest trend we see is the diversification of the palate. Diners want to try new things," he said. "But you wouldn't see this kind of growth without demand."
That demand, in part, is for Middle Eastern food. Rich in olive oil and garlic, it can be healthy. And it's relatively inexpensive, which dovetails with another trend, Deloney said. Michigan diners are looking for inexpensive, casual but quality food. It's those restaurants that are making it in Michigan's tough economy.
Ann Arbor is a natural for ethnic restaurants, said Bela Sipos, with Reinhart Commercial.
"Ann Arbor is wonderful place for different kinds of food. Ann Arbor's a little more adventuresome when it comes to food," he said. Time will tell, he said, if the market is saturated for Middle Eastern restaurants:
"How many of any kind of restaurant can Ann Arbor handle? I don't know the tipping point."
Janet Miller is a freelance reporter for AnnArbor.com.