Posted on
Wed, Dec 1, 2010 : 9:12 p.m.
Retail leasing starts at Zaragon Place 2, signaling shift in downtown Ann Arbor
By Paula Gardner
Site work is under way, preparing the property at Thompson and East William for construction of Zaragon Place 2, the second student high-rise in downtown Ann Arbor by Chicago-area developer Rick Perlman.
Bricks and mortar is one transformation coming from the development.
The other also is under way: Retail leasing for the property, which promises a new peak rental rate for that corridor and an extension of the white-hot South State commercial real estate market.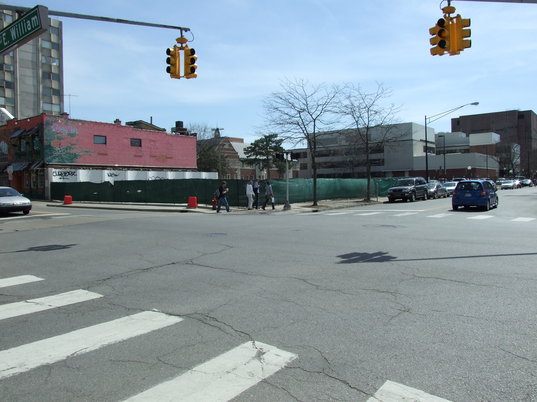 Paula Gardner | AnnArbor.com
The listing went up this month, with Jim Chaconas and Brendan Cavender of Colliers International marketing the unbuilt space at 500 E. William.
The asking rental rate for the two small spaces — they total 2,472 square feet — is $42 per square foot per year.
To put that number into perspective, it's close to top-paying tenants like Starbucks on South Main and South State, and some of the newer restaurants close to campus, and the city's traditional top-of-market areas, like the front of Arborland.
Renderings provided by Colliers International
For a location that many in Ann Arbor recall as a closed bank on a street that few have reason to walk by, the change is dramatic.
The reason, said Chaconas, is "there's no more retail space nearby that's available."
He also said that William street is — by many real estate measures — as strong or stronger than Liberty, which underwent its own transformation as McKinley Towne Centre unified the campus and downtown retail segments.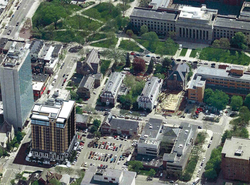 "There a ton of new housing," he said, including Zaragon.
And it's also one of the few places outside of State Street where you can stand on the sidewalk and see the U-M Diag.
The number of students that corridor carries on a daily basis — and the potential for many of them to start traveling west on William after Zaragon 2 is finished — means that the sales potential should increase dramatically for a retailer in that location.
Plus, the lack of availability on South State doesn't hurt, either.
"There's no place to go," Chaconas said of retailers wanting to be close to the Diag. "That's the new hot little area."
Paula Gardner is Business News Director of AnnArbor.com. Contact her at 734-623-2586 or by email. Sign up for the weekly Business Review newsletter, distributed every Thursday, here.