Posted on
Tue, May 29, 2012 : 5:57 a.m.
Business changes on Washtenaw Avenue in Ann Arbor
By Angela Smith
Editor's note: Several corrections have been made to the article.
The south side of Washtenaw Avenue on Ann Arbor's east side is experiencing some retail alterations.
At the corner of Huron Parkway and Washtenaw Avenue, the old Hollywood Video space is being reconstructed for a new business. Scott Young of CBRE confirmed that the zoning change was approved, and that the space has attracted a new urgent care facility. The urgent care would join other health-focused businesses, PT in Motion Physical Therapy and Medical Weight Loss Clinic, in the shopping center.
Angela Smith for AnnArbor.com
Further down the retail strip,
Arbor Cleaners
closed earlier this month, and has posted signs on its window directing people to two local
Martinizing
locations, both owned by
Mark LeChard
. LeChard sold the Martinizing location about 5 years ago, when it was renamed Arbor Cleaners. He owns four additional area
Martinizing stores
, and says that business is going "well enough." When asked about his thoughts as to why Arbor Cleaners closed, he said "Every dry cleaners is down or flat in the last five years," adding that Martinizing does hold a larger marketshare than its competitors.
Continuing east, shoppers can find construction for a new Indian Market that will occupy the old Once Upon A Child spot. Patel Brothers is the largest Indian grocery store chain in America.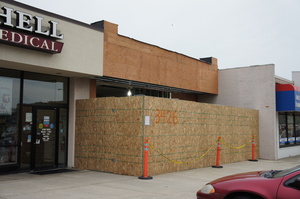 Angela Smith for AnnArbor.com
According to Rakesh Patel, "Our customers that shop at our locations in Michigan have been asking us to open in Ann Arbor for the last year. We did our market survey and saw a good potential."
Patel Brothers has 49 locations, including three other locations in Detroit area. The shop specializes in Indian spices, beans, rice and exotic fruits and vegetables. Patel was hoping to open a market around 8,000 sq ft, but settled on a smaller shop when he found the space on Washtenaw Avenue.
"Indian food is becoming more famous and more mainstream," according to Patel, "we are noticing a change in our customer profile, we are seeing about 15 percent non-Indian customers in our stores, which is very exciting for us, as this opens a new market for us to penetrate."
One mile south of Washtenaw, at Packard and Platt, are a number of other ethnic specialty markets and eateries. One of those is Bombay Market, an 8,000-square-foot shop opened in 2010 by owners Mukesh and Bharti Patel.