Posted on
Wed, Jan 6, 2010 : 9:40 a.m.
Gubernatorial candidate Rick Snyder calls for elimination of Michigan Business Tax
By Nathan Bomey
Ann Arbor venture capitalist Rick Snyder, a Republican gubernatorial candidate and former president of computer maker Gateway Inc., today called for the elimination of the Michigan Business Tax.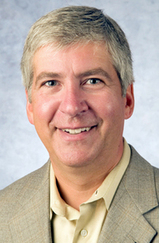 Snyder unveiled a plan that calls for the state to replace the controversial MBT with a single, flat-rate corporate income tax of 6 percent. The Grand Rapids Press reported:
"Eliminating the MBT is one of the most important first steps that can be taken to put Michigan on the path to economic prosperity and restoring our state's reputation," he said. His plan, covered in a seven-page report, would raise an estimated $700 million, less than the $2.2 billion the Michigan Business Tax is estimated to generate for the 2009-10 fiscal year. With falling tax receipts failing to keep pace with state budget spending, reforming Michigan's tax code is a likely to be at the forefront of the gubernatorial campaign this year. Snyder's campaign said the difference "likely amounts to a $1.5 billion tax cut on Michigan job creators."
Snyder's top competitors for the Republican nomination are Attorney General Mike Cox, Oakland County Sheriff Michael Bouchard and U.S. Rep. Peter Hoekstra. All four candidates have pressed for business tax reform.
Snyder's announcement comes one day after prominent conservative David Brandon, long rumored as a potential gubernatorial candidate, opted to accept the University of Michigan's athletic director position. It also comes after Lt. Gov. John Cherry, widely considered the favorite to win the Democratic nomination, dropped out of the race.

Read more about Snyder's proposal from the Grand Rapids Press and the Associated Press.
Contact AnnArbor.com's Nathan Bomey at (734) 623-2587 or nathanbomey@annarbor.com. You can also follow him on Twitter.