Posted on
Thu, Oct 27, 2011 : 5:15 p.m.
Rick Snyder rejects idea of asking Canada for more cash for Detroit-to-Windsor bridge
By Nathan Bomey
Gov. Rick Snyder said today that he would not seek more cash from the Canadian government to help fund the construction of a new bridge connecting Detroit to Windsor.
Snyder's bridge proposal stalled in the Michigan Senate last week as some Republicans questioned the project's economic viability and some Democrats refused to support the project without specific guarantees for Detroit neighborhoods that would be affected by the project.
Snyder wants to authorize a public-private partnership that would hire a private contractor to build the bridge, partly using $550 million pledged by the Canadian government.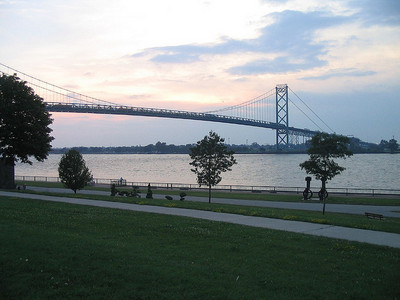 Photo courtesy of VideoVik via Flickr
"The money they said they'd put up would actually cover our infrastructure costs. So there really isn't a need for additional dollars," Snyder told AnnArbor.com in a short interview after an event today at the University of Michigan.
The governor's proposal drew support from the major U.S. automakers, the Michigan Chamber of Commerce, and Michigan's four living ex-governors. Snyder has asserted that the legislation would prevent Michigan from being exposed to any losses that might occur with the bridge.
But the owners of the Ambassador Bridge — which currently carries traffic over the Detroit River — waged a $5 million TV advertising campaign, arguing that the bridge would cost Michigan cash.
Matthew Moroun, vice chairman of the Detroit International Bridge Co., told AnnArbor.com in June that taxpayers would be "annihilated" by the bridge.
The Canadians have promised to front $550 million in cash for the project — which would be repaid using toll dollars over time. Snyder also negotiated a deal with the federal government to allow those dollars to serve as matching funds to secure more road construction funding from Washington.
Snyder said today there's no reason to ask the Canadians to put up more money.
"Money for what, though?" Snyder said. "It's all paid for. I don't ask for money you don't need."
Contact AnnArbor.com's Nathan Bomey at (734) 623-2587 or nathanbomey@annarbor.com. You can also follow him on Twitter or subscribe to AnnArbor.com's newsletters.