Posted on
Tue, Apr 5, 2011 : 2:59 p.m.
Rick Snyder may tap Zingerman's to retrain government executives
By Nathan Bomey
Ann Arbor gourmet food destination Zingerman's is in the early stages of discussions to help retrain top-level government executives at the request of Gov. Rick Snyder, according to a report by Inc. magazine.
The magazine reported that Snyder recently asked Zingerman's co-founder Paul Saginaw whether his company could help Lansing bureaucrats learn a bit about the company's "service culture."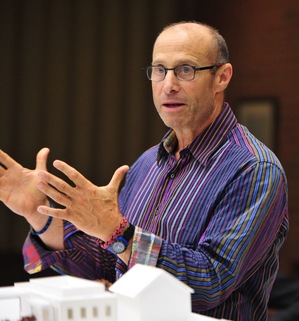 Ryan J. Stanton | AnnArbor.com
"I said, 'Are you serious?" Saginaw told Inc. "But I thought, 'Wouldn't it be great if the orientation of public servants was, My job is to be your resource. You are paying my salary. How do I help you get your business open?'"
The training would be conducted through the company's ZingTrain division, which provides consulting and teaching to executives. The going rate: $975 for a two-day "bottom-line training" session, according to the company's website. Zingerman's also develops customized training workshops at rates of $1,500 to $3,000 for 1 to 2 hours, $3,000 to $4,000 for a half day or $5,000 to $6,000 for a full day.
Reached by AnnArbor.com today, though, Saginaw said the discussions were extremely premature and that Inc. "jumped the gun on this way early."

"My feeling is that the state has extremely limited resources and they have many big pressing fires," he said. "This is more of an idea. If we're going to hear from them, I would think it wouldn't be for a few years."

On its website ZingTrain decries the "ineffective extremes of big business training bureaucracies," instead favoring training that helps to "increase employee job satisfaction," "cut back bureaucracy," "target problem areas" and "give staff the info they need to be successful."
If government executives are set to participate in ZingTrain, they should probably brace for a nontraditional approach.
"Let's just say that making peanut butter and jelly sandwiches could change your whole view of effective training," ZingTrain says on its website.
During his campaign, Snyder repeatedly said government needs to operate more like a business and to treat citizens like customers.
"My experience at Gateway and assisting startups taught me that you can have a great product or service, but you need to be responsive to your customer each and every time you have the opportunity," Snyder told Inc.
Zingerman's, which has more than 500 employees and more than $35 million in annual revenue, is often held up as one of Ann Arbor's shining entrepreneurial success stories. The company, which is in the midst of an expansion, was selected as AnnArbor.com Business Review's Company of the Year at the 2010 "Deals of the Year" ceremony.
It wouldn't be the first political dalliance for Zingerman's.
A year ago, the company fielded a take-out order from Air Force One while President Barack Obama was in town to deliver the University of Michigan's spring commencement address.
Contact AnnArbor.com's Nathan Bomey at (734) 623-2587 or nathanbomey@annarbor.com. You can also follow him on Twitter or subscribe to AnnArbor.com's newsletters.