Posted on
Fri, Nov 5, 2010 : 2:12 p.m.
Rick Snyder to announce appointments Monday in Ann Arbor as MEDC speculation swirls
By Nathan Bomey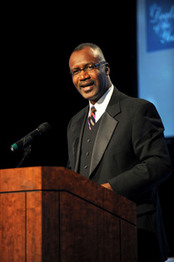 Editor's note: This story has been updated to include the fact that Laurel Champion is on the SPARK board of directors.
Michigan Governor-elect
Rick Snyder
will reveal "key positions in his administration" Monday morning at a press conference in Ann Arbor, his transition team announced today.
Speculation in the Ann Arbor business community is mounting that Michael Finney, president and CEO of Ann Arbor SPARK, may be appointed as CEO of the Michigan Economic Development Corp., although not necessarily on Monday.
Snyder, who co-founded SPARK in 2005, personally recruited Finney to be the first leader of the economic development group. Members of Ann Arbor SPARK's Board of Directors said in September that they were preparing for the possibility that Snyder might name Finney as CEO of MEDC. (Editor's note: AnnArbor.com executive vice president Laurel Champion is a member of the SPARK board.)
Snyder has specifically said that he wants MEDC to encourage economic development groups throughout the state to adopt programs similar to those run by SPARK.
"Mike's just been a fabulous leader at SPARK," Snyder told AnnArbor.com in September. "I think he's a great role model for economic development leadership throughout the state."
Three members of Ann Arbor SPARK's two boards said this afternoon that they did not have any information about the announcement.
"He sure would be missed," said Bill Milliken, a member of SPARK's executive committee.
Elizabeth Parkinson, vice president of public relations and marketing for SPARK, said Finney was not available to comment.
"I'm committed to what we're doing" at SPARK, Finney told AnnArbor.com in September. "I want to make sure we continue to do well. Rick has to decide what he wants to do in terms of his economic development leadership and team."
Snyder's spokesman could not be reached for comment this afternoon.

Finney was a vice president of MEDC when he left in 2002 to lead an economic development group in Rochester, N.Y. Snyder, who got to know Finney as chairman of MEDC's board from 1999 to 2001, convinced Finney to return to Michigan in 2005 to lead SPARK.
If Finney becomes the next CEO of MEDC, he would be taking a pay cut. He made about $259,000 in total compensation in 2008, and current MEDC CEO Greg Main makes about $200,000, according to documents recently obtained by the Mackinac Center for Public Policy.
Snyder has said he wants to cut down on the number of tax incentives MEDC distributes through the Michigan Economic Growth Authority board. He has said he would maintain MEDC but that it should empower local economic development organizations like SPARK, Detroit-based TechTown and Grand Rapids-based The Right Place to make more decisions.
"Right now in the system there's a lot of overlap in the MEDC, which is a redundant effort that's not effective," Snyder told AnnArbor.com's editorial board in October. "We've got a lot of great regional people and organizations already, but we can connect them better, get them to work together better, and make all that happen."
Ann Arbor SPARK provides business services to hundreds of companies and entrepreneurs in the Ann Arbor area. The group houses about 40 startup companies in its three business incubators.
Contact AnnArbor.com's Nathan Bomey at (734) 623-2587 or nathanbomey@annarbor.com. You can also follow him on Twitter or subscribe to AnnArbor.com's newsletters.