Posted on
Wed, Aug 22, 2012 : 5:59 a.m.
Test drive: Talking vehicles can help us deal with distracted driving but won't prevent it
By Kellie Woodhouse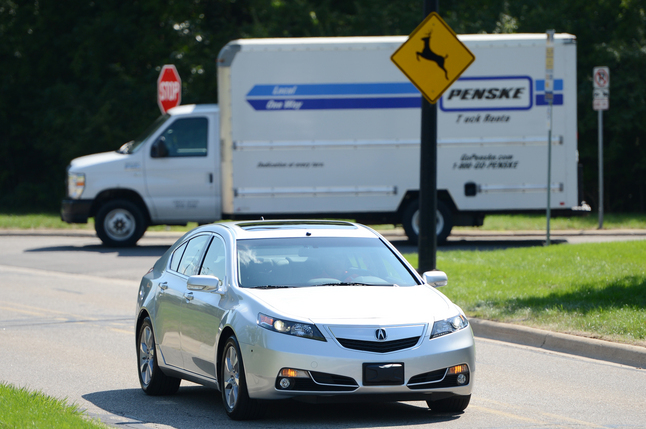 Melanie Maxwell I AnnArbor.com
Ann Arbor drivers probably didn't know that they could have potentially driven a brand-new Audi A4 or Mercedes-Benz 300 if they volunteered to be one of 2,800 local drivers testing groundbreaking communication devices that allow cars to talk to one another.
The chances were slim —only about 64 volunteers got the use of new vehicles with embedded devices and only a handful those were luxury brands.
But Tuesday I got the chance to ride in one of them — a Nissan Infiniti M37, which has a retail price of $48,000 for a basic model. In the back seat I got to experience vehicle-to-vehicle (V2V) technology in action when my driver, traveling at about 50 miles-per-hour, slammed on the brakes, stopping just inches short of hitting a stationary Toyota Venza.
In the split second before we stopped, I could almost hear the crunch of metal as if our vehicle had slammed into the light-blue Venza after the car ahead of us, a silver Hyundai Sonata, swerved to avoid the stationary vehicle.
Instead, I heard three short beeps and saw a small yellow icon, in the shape of a vehicle, flicker near the odometer, warning the driver to brake.
I was on a makeshift simulation track on the campus of University of Michigan's North Campus Research Complex.
The scenario, as explained by professional driver David McMillen, was this: "You're following the car right in front of you, heading down a multi-lane highway. At the very last second you get an alarm, but you don't know why. What happens is the car directly in front of us changes lanes at the very last moment and the reason they did that is because there's a stopped car in the lane we're traveling in."
We can't see the car because of the driver immediately in front of us, but the alarm lets us know something is amiss and allows us to avoid a crash.
It's the unseen and the unexpected, combining like so many factors do each day on hundreds of roadways, creating deadly tragedies.
Last year, an estimated 32,310 people died on America's roadways.
The takeaway was clear: Connected vehicles can anticipate things human drivers can't. As U.S. Transportation Secretary Ray LaHood said Tuesday while in Ann Arbor, communicating cars —which use wireless and radio devices to monitor risk through location, speed and acceleration— have the potential to save thousands of lives.
Researchers and government officials say the Ann Arbor deployment, one of the largest real-world smart-car experiments in the world, will show us how V2V technology works on the open road.
The deployment launched Tuesday and will last a year. It's being facilitated by U-M's Institute for Transportation Research and is part of a $25 million safety pilot program undertaken by the federal government. Five hundred cars outfitted with the technology are already on the road, with more to join their ranks in the weeks to come.
In another scenario, I was in the back seat of a Volkswagen GTI, which has a retail price of $24,000 for a basic model, going about 45 miles per hour when our vehicle approached a car going significantly slower, maybe 15 miles per hour. The driver heard an alert and slammed on the brakes to avoid a crash.
It was a simulation of an open-road situation in which the driver is distracted by something —whether it be a phone, noisy child or roadway sign— and doesn't notice the slower driver.
"If you're accidentally looking down and not paying much attention, and you're going to hit somebody, it should give you the warning and have you look up," said Tigran Khatchatrain, an engineer with Volkswagen.
Interestingly, the sound and appearance of a warning is an intricate science itself. The alerts need to be jolting, but not distracting. In the deployment, several different alert methods are being tested.
For example, to let drivers know there's a car in their blind-spot, some V2V-outfitted cars have small lights on the inside of the car between the window and the wheel, some have large LED lights and others have lights on the rearview mirrors.
"Whoever is putting together the driver-vehicle interface wants the messages to be concise and easy to understand," said Scott Bogard, a U-M engineer working on the deployment. "They don't want it to be distracting."
For the next simulation, Khatchatrain put on his seat belt and advised I buckle up too.
Our vehicle was going through a green light when suddenly an elongated beep and flashing "BRAKE" warning on the dashboard alerted us to danger. We braked immediately, lurching forward in our seats, as a driver sped through the intersection, running a red light.
I was thankful for the seat belt.
Clearly, V2V technology can't prevent reckless and distracted driving. But as I saw Tuesday, it can help us avoid some of the devastating consequences of such unfortunate practices.
But some ask, could it make distracted driving worse? Could it give drivers an excuse of sorts to drive distractedly?
LaHood was asked that question twice during a press conference Tuesday, and both times he refused to answer.
Why? Probably because the answer is uncertain.
Ann Mehringer, a U-M employee and Milan resident who volunteered for the study, said she doesn't think the new technology will create problems.
"This actually has a lot to do with other drivers and not necessarily you," she offered. "If someone's going ro run a red light, you don't know," but you can prevent a collision.
Later, Gregory Winfree, deputy administrator for the Research and Innovative Technology Administration of the U.S. Department of Transportation, told me that for accident rates to fall, people and the technology have to work together.
"The first thing you have to do is get people to put their cellphones down, and the second thing you have to do is get people to understand how this technology works," he said.
Kellie Woodhouse covers higher education for AnnArbor.com. Reach her at kelliewoodhouse@annarbor.com or 734-623-4602 and follow her on twitter.