Posted on
Sat, Jun 2, 2012 : 5:57 a.m.
Rightway used car dealership to open at former Washtenaw Avenue restaurant
By Tom Perkins
A used car lot will soon open at the site of the former Leone's Bistro on Washtenaw Avenue in Ypsilanti Township.
On Wednesday, Collier's Brendan Cavender and Jim Chaconas closed a $500,000 deal with Rightway Auto, which owns 20 lots in Michigan and the midwest.
"We've been working to get them in Ypsilanti for a while, and this site works well for them," Cavender said. "It's about one acre, they're going to clean it up, fix it up, do a lot of landscaping to make it look really nice along Washtenaw Avenue. We don't need another vacant restaurant on that strip."
Leone's closed about four months ago. Cavender said the bistro focused on high-end wine and Italian fare and was likely in the wrong location and market. He said Colliers received numerous calls from people interested in opening another restaurant but said that there are already too many along that strip.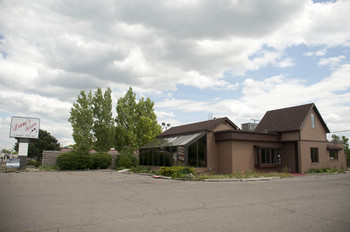 Tom Perkins | For AnnArbor.com
The spot is a good fit for a dealership because of Washtenaw's heavy traffic and the site's high visibility, Cavender said, and he added that Rightway is known for operating respectable dealerships.
"They run a clean, high-quality operation," he said. "That's one thing we wanted to make sure of before we sold this property."
The approximately 4,000-square foot building will be used for office space. There won't be a service center on site, but Rightway Vice President Mike Crane said they will send customers to local facilities for any repair needs.
Rightway sells cars that are less than 10 years old up to the current model year, Crane said. He said the company works with 12 to 14 lenders, some of whom are very aggressive, so they specialize in helping customers re-establish or establish credit, though they also sell to people with a high score.
Crane said Rightway has identified around 25 markets in Michigan that make sense for its business model and hold a sizeable demographic that would support an affordable but quality used car dealership. He said the company has renovated a variety of buildings in southeast Michigan and knows where they will be successful.
The dealership will initially employ seven people and the lot will hold around 50 cars. A similar-size location in metro Detroit averages 53 sales monthly, and the company sold around 7,000 cars last year.
"We've got a diverse group of locations and this one fits from a size and area standpoint," Crane said.
He said the Ypsilanti Township Planning Commission wasn't initially excited about the prospect of a used car dealership at the location, but members warmed up to the idea after seeing the site plans that included extensive landscaping, new sidewalks and making renovations to the building. The commission unanimously approved the project.