Posted on
Wed, Apr 20, 2011 : 11:47 a.m.
Sakti3's solid-state batteries named one of world's Top 10 'emerging technologies'
By Nathan Bomey
Solid-state batteries being developed by Ann Arbor-based startup Sakti3 are among the top 10 "emerging technologies" of 2011, according to a list released today by MIT's Technology Review magazine.
The honor highlights Sakti3's effort to create second-generation lithium-ion batteries for electric vehicles and other applications.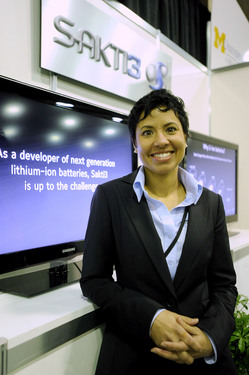 Angela J. Cesere | AnnArbor.com
The company, which spun out of the University of Michigan's College of Engineering, is pursuing a new lithium-ion battery design that would use lighter materials to reduce weight and cost, boost durability and increase energy storage capacity.
"The result could be battery systems half to a third the size of conventional ones," Technology Review reported.
Industry heavyweights and well-known investors have shown a lot of faith in Sakti3's technology, which is still a few years away from being commercialized. Renowned clean tech venture capital firm Khosla Ventures and General Motors' venture capital arm are among the investors in Sakti3.
"If electric and hybrid vehicles are to account for more than a small percentage of vehicles on the road, cheaper and better batteries are needed," said Stephen Cass, special project editor at Technology Review, in a statement. "Sakti3 could deliver the needed breakthrough by focusing on ways to economically mass-produce a new type of battery—a so called solid-state battery—that can safely store more energy than a traditional lithium-ion battery, which would reduce the cost of electric and hybrid vehicles and extend their range."
Meanwhile, Sakti3 is also believed to be considering an expansion that would involve the acquisition of a tax abatement at a property inside the city of Ann Arbor. A real estate firm representing Sakti3 recently requested that City Council establish an industrial development district at 1490 Eisenhower Place. That's a required legal precursor to an official tax abatement request, which generally accompanies an expansion or business investment.
Contact AnnArbor.com's Nathan Bomey at (734) 623-2587 or nathanbomey@annarbor.com. You can also follow him on Twitter or subscribe to AnnArbor.com's newsletters.