Posted on
Tue, Jul 26, 2011 : 5:58 a.m.
Salon Vox plans expansion after purchasing downtown Ann Arbor building
By Lizzy Alfs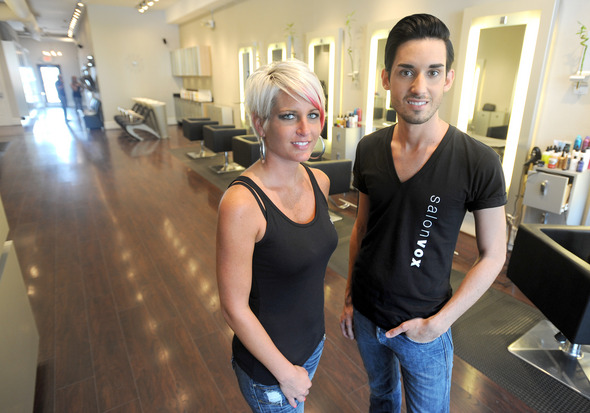 Angela Cesere | AnnArbor.com
Downtown Ann Arbor's
Salon Vox
closed on a deal last week to purchase three floors of its 115 W. Liberty St. building, allowing the salon to double in size.
The five-year-old salon had been leasing the basement and first-level spaces of the downtown Ann Arbor building, which is owned by Peter Allen & Associates.
The deal includes the purchase of the basement, first and second floors of the building, totaling 5,400 square feet.
Salon owner Jen Hepler described the expansion as "definitely a million-dollar project." She said she plans to transform the second floor into an extension of the first-floor salon.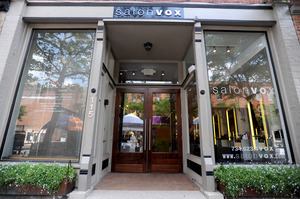 Angele Cesere | AnnArbor.com
Tony Lupo, director of sales and marketing for Salon Vox, said that the construction project will involve a complete transformation of the second-floor space, which was formerly occupied by public relations firm MS&L Digital.
"It's going to be on the same level as you see our main floor," Lupo said. "It will be very innovative, with a modern aesthetic, clean lines and it's going to be really neat."
Hepler said that the construction process is set to begin this week, and she is hoping to have the project completed by the end of the year. It should not affect business on the main level of the salon, she said.
Hepler said the purchase of the building and expansion effort comes as business at the salon is "phenomenal and getting better each month."
And with business booming, she said it was time to expand.
"Now that we're up to 22 employees and we'd love to bring more team members on, we needed more space to be able to provide continued education and more styling stations as well," she said.
Along with the additional styling space, Lupo said that a long-term goal for the salon is to have some type of advanced styling academy at the downtown studio.
"We'd be able to provide additional education for established stylists and also possible cosmetology education for people aspiring to be hair stylists," he said.
The Salon Vox expansion comes five years after Hepler opened the salon in Ann Arbor because she liked the "upbeat vibe" of the downtown area.
Her plan was to open a salon that was different than anything else in the area.
"Jen wanted her salon's core values to be about education, customer service and staying on top of current trends and fashion," Lupo said. "She wanted to bring that innovation to a city like Ann Arbor."
Throughout the years, Salon Vox has worked to establish a presence in the city by hosting events like fashion shows and having a disc jockey in the salon on Thursday nights.
The salon has also taken up some political activism by pushing for a change in state law in an effort to provide customers with complementary alcoholic beverages.
Hepler, who described downtown Ann Arbor as her "own little neighborhood," said that being a part of the community is important for her business strategy.
"We focus on helping our neighborhood," Hepler said. "Our focus is definitely on young professionals and business owners downtown. We eat at their restaurants, and they get their hair cut here."
And although Lupo said that the salon's main goal is to finish the expansion, they aren't ruling out the idea of opening more Salon Vox locations in the future.
"We definitely have talked since the very beginning of a grand plan of eventually opening multiple locations," he said. "We'd definitely love to expand further, but we really want to have a strong focus on this location right now."
Lizzy Alfs is a business reporter for AnnArbor.com. Reach her at 734-623-2584 or email her at lizzyalfs@annarbor.com. Follow her on Twitter at http://twitter.com/lizzyalfs.