Posted on
Tue, Dec 13, 2011 : 5:59 a.m.
Sava opens 'farm fresh, street smart' market in downtown Ann Arbor
By Lizzy Alfs
Sitting in Sava Lelcaj's new market, babo, it's not uncommon to see one of the chefs run from behind the food counter to grab an eggplant, a tomato or a fresh loaf of bread.
As they prepare the daily two dozen salads and various sandwiches, they are sure to use products straight from the store.
"The chefs come out here and pick their produce and their cheese and create whatever they need to create," said Lelcaj, who opened babo: a market by sava on the first floor of Sterling 411 Lofts on East Washington Street last Wednesday.
Lelcaj's market is a combination of a specialty store, a carry-out restaurant, a coffee shop and a soon-to-be wine bar. There is free Wi-Fi and two seating counters.
The store also boasts of various artistic elements, from chairs made out of salvaged wood from a collapsed barn in Chelsea to cast-iron pans used as the babo sign.
The store's visual director, Dave LeFave, has repurposed items to display food and decorate the market. Stoves, painted cardboard boxes, electrical wire spools and an old wardrobe from Detroit are used as displays. Platters from thrift stores and pages cut out from old books line the walls.
"We just used everything we could," Lelcaj said. "We're taking food and making it art to make food sexy again."
Along babo's shelves, there are prepared foods, frozen foods, produce, specialty cheeses, olives, spices, fresh bread, bagels, milk, eggs, yogurt, soda, pastas and sauces, honey, jam, cereal, and sweets. The store has also partnered with local stores to offer products like coffee from Zingerman's and hummus from Jerusalem Garden.
But don't expect to find more mainstream products like a Coca-Cola or Oreos.
"We went back and forth on some of those products," Lelcaj said. "But you can get a Coke at Subway or CVS. We wanted to offer something unique with our products. We want people to experience something different here and that's why we didn't go that route."
They also wanted to be health conscious, she added.
"We want to bring in products that we can stand behind, and that takes a lot of time and a lot of education," she said. "We want to know what we're carrying, who is making it and how they're making it."
Some of the items in the store are on the expensive side, such as the specialty cheeses, but general manager Paul Hannah said babo was really designed to be affordable.
A prepared sandwich runs between $6-9. A small, pour-over coffee is $2. A box of Puffins cereal is $6.
"We do have some things that are maybe on the high side," he said, "but we do have a lot of options that are in the middle or pocketbook friendly."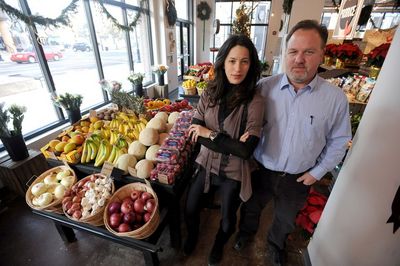 Angela Cesere | AnnArbor.com
Since opening last week, Hannah said business at the store has "far exceeded" expectations. From 411 residents to "townies" and business people, the store has been bustling with customers.
But a sign at the front of the market warns people: Babo is still evolving and will change in the coming months.
By spring, Hannah said he hopes to have the license to sell beer and wine. Babo could also become a late-night pizza stop down the road. And when the weather gets warmer, look for outdoor seating and music playing.
The store is also bringing in a large chalkboard for people to write suggestions — and the store will be altered based on customer feedback.
"Unlike a traditional grocery store, we're reaching nine or 10 blocks," Hannah said. "We're figuring out who those people are, what they want to buy and what price point they want to buy at."
Lizzy Alfs is a business reporter for AnnArbor.com. Reach her at 734-623-2584 or email her at lizzyalfs@annarbor.com. Follow her on Twitter at http://twitter.com/lizzyalfs.