Sava Lelcaj reveals plans for downtown Ann Arbor market 'babo'
Posted on Wed, May 11, 2011 : 5:57 a.m.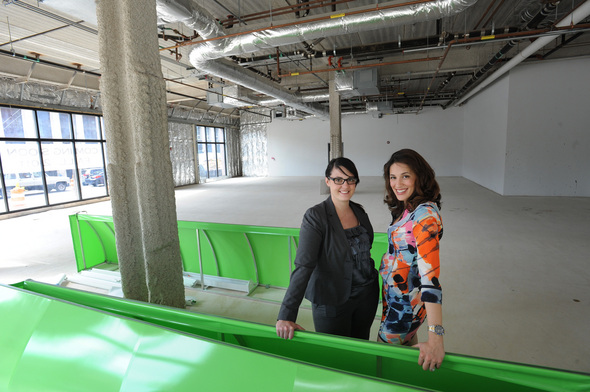 Melanie Maxwell | AnnArbor.com

Ann Arbor restaurateur Sava Lelcaj plans to start renovations soon on her new business, babo: a market by sava, which she hopes to open in the fall on the first floor of a student apartment development on the corner of Washington and Division streets.

Lelcaj last month signed a 10-year lease to occupy the 3,800-square-foot space on the first floor of Sterling 411 Lofts, which is owned by The Dinerstein Companies.

The name babo means "pops" in Albanian, Lelcaj said. "It's the slang way of saying 'father.' My dad is so important to me, and because of him, I am interested in educating in the importance of nutrition," she said.

The floor plan for Lelcaj's European-style market includes areas designated for a wine and espresso bar, deli, bakery, produce, grocery and apothecary. (Download a PDF of the tenative floor plan.)

Lelcaj, who grew up in New York City, said she wanted to bring a market that was accessible and convenient to Ann Arbor.

"In New York City it's all about convenience," Lelcaj said. "I feel like we were really missing the convenience of a grocery store right downtown Ann Arbor. I want people to be able to pick up a loaf of bread, a bottle of wine and maybe a prepackaged sandwich for lunch the next day."

Sava calls her vision for the business "ambitious," with plans for the market that include breakfast in bed for 411 residents, a rooftop herb garden, grocery delivery, food and drink tastings and outdoor seasonal produce sales.

"Our excitement and sheer passion will drive these things. These are just some of things we want to do," Lelcaj said. "This is just the surface."

She said she plans to work with local businesses and provide environmentally-friendly products.

"We are thinking local first," Lelcaj said. "We want as many local companies to come out and offer us something unique. We want cool stuff."

The market comes as Lelcaj's expanded State Street restaurant, Sava's Restaurant, has taken off since moving to the west side of the street in 2009. Lelcaj started the Ann Arbor restaurant as Sava's State Street Cafe on a second floor space at 211 S. State Street in 2007. After CVS Pharmacy signed a lease for the same property, Lelcaj said her lease was terminated and she was forced to look for another location. She then moved into the former Zanzibar space, located at 216 S. State Street.

Lelcaj said the move was a "blessing," and she has now been able to expand her business. The new market is just one of her many ideas, she said.

Lelcaj said the market will give her the opportunity to package and brand some of her own products, such as the Greek dressing she serves at Sava's Restaurant. She will sell some other products at babo that appear on the restaurant menu, she said.

She said she will also launch a website where customers can order items online.

"We are working to find somebody that will share our vision and put out a great website," Lelcaj said. "We are also working on a logo and branding and packaging."

Lelcaj said she plans to have 25-30 employees work at the market. Some restaurant employees will work at both the restaurant and market.

Sarah Power, Lelcaj's director of operations, said she is excited about the market's location because it will help make the Washington Street area more vibrant.

"There are things starting to move and grow in this area," Power said. "Sava had a great vision in selecting this location."

Neal Warling of real estate firm Jones Lang LaSalle helped broker babo's lease with former Jones Lang LaSalle agent Newcombe Clark, who now works for tech firm MyBuys.

Warling said that despite competition for the space, the landlord was holding out for the market.

"We were actually holding them a little bit at bay to see if we could get Sava's deal done," Warling said. "The landlord thought the concept would be perfect for that corner."

Lelcaj said she will host community forums this summer at the babo location to get feedback on her ideas for the market. The first forum is set for 6:30 p.m. June 16.