Posted on
Mon, May 14, 2012 : 2:58 p.m.
Rezoning request for Menards store goes back before Scio Township Planning Commission
By Lizzy Alfs
The Scio Township Planning Commission will take a closer look Monday night at a request from Menards to rezone property on Jackson Road for a store.
The request — which was first considered by the township at its April 23 meeting — would pave the way for the Wisconsin-based home improvement chain to build a roughly 160,000-square-foot store on the southeast corner of Jackson and Staebler Roads.
Source: Facebook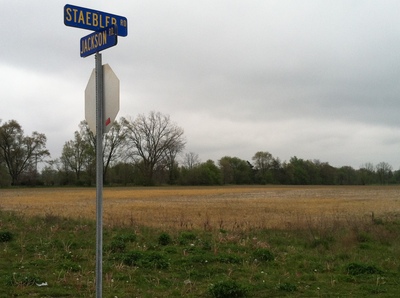 Lizzy Alfs | AnnArbor.com
Menard Inc. is under contract to purchase 62 acres of the 165-acre site known as the former Farmer Grant land.
To move forward with the project, Menards is requesting to rezone the conditionally zoned site to straight general commercial. The site was conditionally zoned in 2009 for a $100 million mixed-use project called The Village at Honey Creek, which later fell through due to zoning issues and the crash in the real estate market.
At the same time, Scio Township is looking to revert the conditional zoning for the remainder of the property back to its original designation: general agriculture. Township planner Doug Lewan said he believes this revert-back is required by ordinance.
In 2010, Menards attempted to build a store in the Ann Arbor area, but the plans were halted when Pittsfield Township Planning Commission voted to deny the rezoning request from light industrial to commercial, and the Board of Trustees then voted to accept the recommendation.
Rezoning the land would not have been in keeping with the township's Master Land Use plan, township Clerk Alan Israel said at the time.
Menards has 262 locations in 13 states, including nine locations in Michigan. The company is also currently looking to build stores in Warren, Livonia and Kalamazoo County, and is in various stages of approval for rezoning requests and site plans for those stores.
Lizzy Alfs is a business reporter for AnnArbor.com. Reach her at 734-623-2584 or email her at lizzyalfs@annarbor.com. Follow her on Twitter at http://twitter.com/lizzyalfs.