Posted on
Mon, Mar 29, 2010 : 5:54 a.m.
Education chasm: Downturn splinters Ann Arbor's economy into two pieces
By Nathan Bomey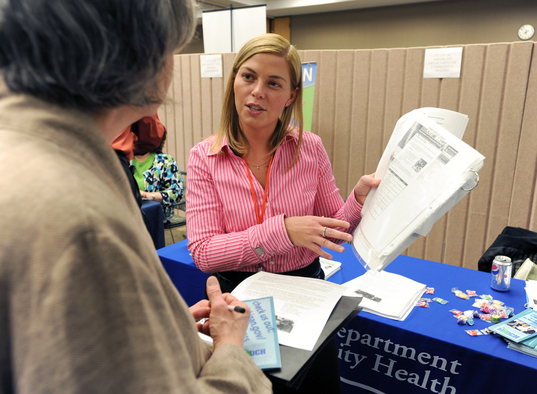 Lon Horwedel | AnnArbor.com
The Great Recession rattled the economic foundation of the Ann Arbor region, splintering the workforce into two pieces: Jobs that require higher education or specialized skills and jobs that require little education.
The gulf between the two sides will only continue to widen, experts said. It's a lasting legacy of the auto industry's collapse, which led directly to the disintegration of many traditional high-paid manufacturing jobs.
"All that stuff accelerated in the downturn," said Lou Glazer, president of Ann Arbor-based economic think tank Michigan Future Inc. "We will come out of this recession even more knowledge-based than we were going in. It's going to be where all the job growth is and all the high wages are."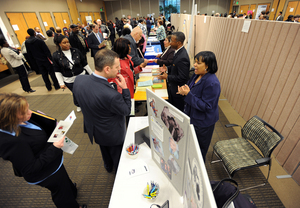 Lon Horwedel | AnnArbor.com
Here's a glimpse into the changes: By 2011, Washtenaw County will have more computer software-related employees (3,571) than vehicle manufacturing workers (3,328) for the first time in its history, according to projections by University of Michigan economists.
Washtenaw County had 19,120 vehicle manufacturing workers in 1990 - some 11.1 percent of the local workforce.
By 2008, that figure had slipped to 5,764, although those workers were paid an average salary of $95,857.
And now, by 2011, the total number of vehicle manufacturing workers in Washtenaw County will be about one-fifth the number of people employed at General Motors' Willow Run plant in the 1970s.
For Ian Navarre, a former Delphi factory worker now taking classes at Washtenaw Community College, the new reality is clear-cut.
"Let the auto industry go," said Navarre, who was looking for jobs Thursday at WCC's 14th annual Spring Job Fair. "It's going to be obsolete in a really short period of time. We should focus more on looking at what the needs of the local industries are."
The auto industry's contraction doesn't leave the economic landscape altogether desolate.
Economic development group Ann Arbor SPARK estimates that the region still boasts about 30 automotive research-and-development operations.
That includes Toyota's 1,100-person engineering operation in York Township, Hyundai-Kia's 170-person engineering center in Superior Township and AVL Powertrain Engineering's alternative propulsion lab in Ann Arbor.
And that automotive legacy boasts other implications, as well.
Take Buycentives, for example. The Ann Arbor startup, which is developing an online tool to provide customized car incentives to consumers, is led by former GM Saturn executives David Goldschmidt and Sean Murphy.
"We grew up in the old Michigan," Murphy said. "Ann Arbor, to some extent, is the new Michigan - technology, life sciences and software. And we wouldn't mind being the bridge between the two."
That bridge seems to be a little more stable in 2010. In fact, U-M economists believe the region will lose just 66 jobs in 2010 before gaining 612 in 2011 and 2,079 in 2012.
"We're going to get some job growth," U-M economist Don Grimes said. "Certainly we get the sense that there's this new resurgence in the research and high-tech and knowledge economy stuff that's going on in Ann Arbor, and that could send employment up a little more than we've anticipated."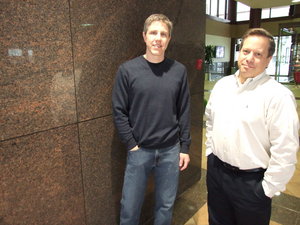 Nathan Bomey | AnnArbor.com
Still, industries that require little education face a grim outlook. The local leisure and hospitality services industry is expected to lose 538 jobs from 2008 to 2012. The region's construction industry, meanwhile, will employ 3,523 workers by 2012, down 43 percent from 6,196 in 2005.
The contraction in the low-skill workforce also comes with lower wages, in contrast to improving salaries for high-skill workers.
That emerging split in the economy - hope for "knowledge workers" and dismay for low-skill employees - fosters a disquieting reality.
"All the good-paying job growth is going to come in the knowledge economy," Glazer said. "The low-education attainment industries tend to be concentrated in factory work and construction. They're not coming back any time soon."
Nonetheless, optimism might be making a comeback, despite a prolonged period of frustration.
WCC's job fair - conducted by its employment services, student resources and women's center offices - drew about 500 prospective hires.
David Wildfong, student services adviser for the employment services center, estimated that 60 percent to 70 percent were unemployed members of the community seeking jobs from the 50 companies and 20 nonprofits that set up booths at the event.
Wildfong said the mood seemed to be responsibly upbeat, however.
"There definitely is a change taking place," he said.
Contact AnnArbor.com's Nathan Bomey at (734) 623-2587 or nathanbomey@annarbor.com or follow him on Twitter. You can also subscribe to AnnArbor.com Business Review's weekly e-newsletter or the upcoming breaking business news e-newsletter.