Posted on
Fri, Nov 25, 2011 : 7:59 p.m.
Black Friday shopper mourns Borders
By Paula Gardner
Friday's shopping frenzy marked Ann Arbor's first holiday shopping season without Borders in many years.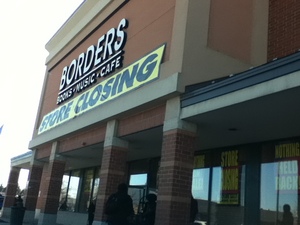 As a result, one fan of the Ann Arbor-based bookstore chain that fell to bankruptcy this year writes that it's "truly a Black Friday without Borders" in a column on HuffingtonPost.com.
Borders' flagship store in Ann Arbor was always part of his holiday shopping experience, he said. And he expresses hesitation to turn to another megabookstore.
Adam Benson writes: "I imagined Borders was created by the characters from 'The Big Chill' after they listened to Gordon Gekko's pep talk in 'Wall Street.' Certainly Borders was a money-making enterprise, but it seemed to be one of noble purpose ... It was both radical and entrepreneurial at the time."