Posted on
Wed, Jun 8, 2011 : 12:44 p.m.
Should new Ann Arbor retail development be 7 times proposed size?
By Paula Gardner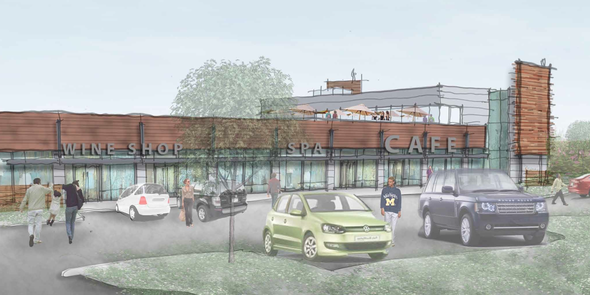 Image courtesy of developer
Plans for
Arbor Hills Crossing
generated
a collision between planning principles and market forces when they went before the Ann Arbor Planning Commission — for the first time — on Tuesday night.
The developers went into the meeting knowing that a decision would be delayed, due to some missing information from state road officials.
But they — and others — may have been as surprised as me about the comment from Planning Commission Bonnie Bona made during the meeting about the size of the project.
In a town that's expressed a whole lot of fears about density over the past decade, Bona raised the question: What kept Campus Realty and North Shore Properties Group from taking this project from the proposed 90,000 square feet to the maximum allowed by zoning: 649,066 square feet?
Some of that could be office and residential, aided by underground parking.
But really: 649,066 square feet on the 7 acres fronting one of the busiest roads in Washtenaw County?
On the planning front, we need rules that can deliver an overall vision for a community. Raising the question when preparing to evaluate plans is an important component of that.
Yet there's a practical element driving that, too. I often use the catchphrase "market forces," but really what has to happen in development, for it to be successful, is that people have to want to be a part of it.
On the retail side, we're seeing a spike in vacancies along the corridor — in Ann Arbor, it's not just at Arborland. When you extend the vision for Washtenaw into other municipalities, the spike is acute: It's just been weeks since boards went up on the window at the vacant Ypsi-Arbor Bowl, across the street from a long-vacant grocery.
We're also seeing effects of nationwide retail overbuilding, major chains cutting back on their store space and pressures on smaller retailers — the kind that fill the types of neighborhood centers conducive to walking or cycling — that can make operating a storefront challenging.
One benefit that I'm seeing from the recession is the new attention to infill development — like this site — and a slowdown of the greenfield development. Our greater community will be better off if we retain the commercial viability and vitality of its core areas.
Plus, we've learned that Ann Arbor isn't a bottomless market for retail, office or residential space.
So do we need to aim for the maximum on every project? And is the community harmed if we don't?
As I consider that, I'm thinking of two recent projects that serve as examples that bringing mixed-use concepts and more density to development sites may not be the best move:
• Ashley Terrace, which started out as an office concept, but was turned into a condo tower with retail space. Office and retail remain empty and many condos became rentals — before 27 unsold units went back to the lender, along with the commercial space. We can point to the economy, but we also can point out that other office deals got done in the last few years, and this is shaping up to be "last resort" space. Worth the density?
• Plymouth Green Crossings, where the commercial space isn't full and the condos were turned into rentals — and it could be years before a second building goes up. The standalone bank on the property, its most traditional component, seems to be functioning fine. When will Ann Arbor be ready for this mixed-use approach?
It's still early in the public discussion process for Arbor Hills Crossing, and I'm eager to see where it goes. Planning comments often lead to better projects.
But I do hope that the so-called "market forces" play a role in that so we're not left forcing a good planning concept onto a property that, on the commercial and investment sides, may not be able to sustain it.