Posted on
Thu, Apr 28, 2011 : 5:57 a.m.
Google, McKinley partner to install solar panels, build outdoor terrace at downtown Ann Arbor office building
By Nathan Bomey
Google Inc. is collaborating with real estate firm McKinley Inc. to install solar panels on the roof of the search engine's office building in downtown Ann Arbor.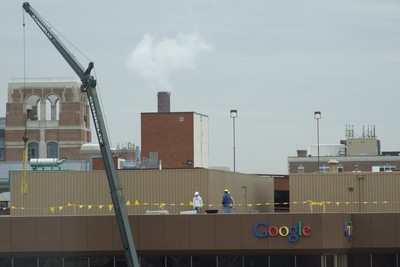 Nathan Bomey | AnnArbor.com
Officials from both companies said they believe it to be the largest photovoltaic solar panel installation in
Washtenaw County
, though that could not be independently confirmed.
The companies are also collaborating to build a 4,800-square-foot outdoor deck above the Bar Louie restaurant on the southwest side of the 240,000-square-foot McKinley Towne Centre office building that Google employees will be able to access.
Executives from Google and Ann Arbor-based McKinley said they are sharing the costs of the upgrades, but they declined to offer details. They said they view their collaboration as an example of how companies can work together with landlords to adopt renewable energy technology to enhance the workplace.
"Our real emphasis is on making sure that (in) our partnership with McKinley, we are setting an example and being leaders in green," said Mike Miller, who leads Google's Ann Arbor office. "I think what you see when you talk to Googlers is they've got incredible passion about all things green and environmental concerns. It's important for us to show leadership both in the local office in Ann Arbor, Michigan and also on the global stage."
Miller said the solar panels would generate an estimated 22,000 kilowatt-hours of power over the course of a year, which is equivalent to about two to three homes.
The other tenants of McKinley Towne Centre will benefit from the energy savings from the solar panels, McKinley CEO Albert Berriz said. The building also houses economic development group Ann Arbor SPARK, law firm Bodman and TechArb, a student-led business incubator run by the University of Michigan.
"I think that without question McKinley Towne Centre is the preeminent office building" in the area, Berriz said.
Berriz said discussions about the upgrades started when McKinley and Google were discussing the company's lease renewal last year.
"We both really believed in this," he said.
Jake Parrillo, a Google spokesman, said the upgrades come as Google is making about 10 "green investments" globally right now. He said that outdoor spaces like the terrace being constructed at McKinley Towne Centre are something that most of the Google offices "have in common."
The renovations are expected to be completed by the end of May. According to permits filed with the city of Ann Arbor, Sunventrix LLC is installing the solar panels. Other companies involved in the renovation include Centimark Roofing Corp., Cornerstone Design Architects and George F. Wilbur Inc.
The renovations come as Google is saying that it will hire more new workers in 2011 than in any year in its history. The company has said it would add 6,000 by the end of the year, including some at the Ann Arbor sales office.
Google executives declined to offer details about their plans for hiring in Ann Arbor but said the company now has more than 250 workers here. In 2006, the company received a 5-year tax credit from the Michigan Economic Development Corp.'s Michigan Economic Growth Authority board after promising to hire 1,000 workers by 2011.
Contact AnnArbor.com's Nathan Bomey at (734) 623-2587 or nathanbomey@annarbor.com. You can also follow him on Twitter or subscribe to AnnArbor.com's newsletters.