Posted on
Tue, Apr 26, 2011 : 10:56 a.m.
Some Borders Rewards customer names, email addresses were exposed, company says
By Nathan Bomey
(This story has been updated after Borders said it has determined that fewer than 150 names and emails were "obtained" by outsiders.)
The names and email addresses of some customers of Ann Arbor-based book store chain Borders Group Inc. were exposed on a publicly available website, the company acknowledged today.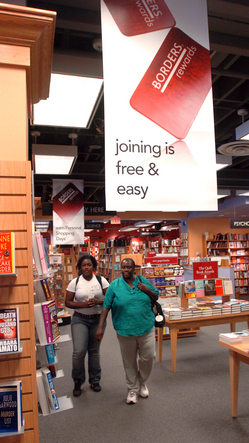 File photo | AnnArbor.com
The website — which was shut down over the weekend when the company became aware of it — had published a searchable database containing information associated with the
Borders Rewards
loyalty program, according to a
blog post
Saturday on a blog run by Borders workers and former employees.
Borders, which told AnnArbor.com on Monday that it was investigating the incident, now says it has determined that some customer information was publicly available on the site. UPDATE 8:25 p.m.: Borders now says that it has "confirmed" that fewer than 150 names and emails were "obtained" by outsiders.
"We are conducting a thorough investigation to determine whether any other breaches occurred, and how this information was shared externally," spokeswoman Mary Davis said in an email.
Borders Rewards has more than 41 million members. The company uses it to email coupons to customers and provides additional discounts to people who pay an annual fee of $20.
"We are still assessing, but believe only a very small percentage of names/email addresses were viewed," Davis said.
Calls placed to marketing firm Brierley+Partners, which helped Borders design and implement Borders Rewards, have not been returned.
"We are continuing with our investigation into the matter and concurrently are working with our partner Brierley to put in place measures to prevent this from happening again," Davis said.
Contact AnnArbor.com's Nathan Bomey at (734) 623-2587 or nathanbomey@annarbor.com. You can also follow him on Twitter or subscribe to AnnArbor.com's newsletters.