Posted on
Wed, Aug 24, 2011 : 5:58 a.m.
As Costco construction nears, several Ann Arbor businesses forced to move
By Lizzy Alfs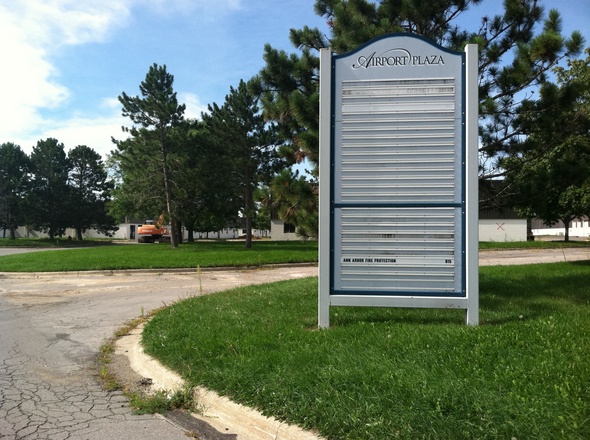 Lizzy Alfs | AnnArbor.com
Once bustling with business activity, a portion of the
Airport Plaza
industrial park in
Pittsfield Township
is now almost completely vacated, making room for the
soon-to-be built
Costco
warehouse store near the corner of State and Ellsworth.
To build the 148,000-square-foot store, eight existing office buildings have to be demolished on the property, which is owned by local developer Jake Haas.
Multiple tenants occupied several of the buildings, and after hearing news of the Costco development, the businesses were forced to pack up and move out.
"Some of the tenants found new homes (at) other places, and then some tenants chose to relocate nearby and still rent from me," said Haas.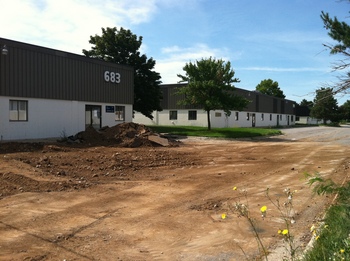 Lizzy Alfs | AnnArbor.com
The Airport Plaza industrial park has a total of 37 office buildings. Since some of the buildings were partially vacant, Haas said he worked with many of the displaced businesses to relocate them inside the industrial park.
"The tenants were all taken care of, and generally, it was a win-win for everybody," Haas said.
Some of the displaced businesses included Campbell Mechanical Inc., PKSA Karate, Kantner & Associates, Mayaterials, Symorex, Body Specs, Inc., White Crane Karate Jutsu and Cybernet Systems Corporation.
The only remaining tenant in the eight soon-to-be demolished buildings is the Ann Arbor Fire Protection, which will relocate within the industrial park in the coming weeks.
Although the businesses were given warning of the Costco development months before it received final approval from the Pittsfield Township Planning Commission, Patrick Lewis of Cybernet Systems Corporation said the move was still "very annoying."
Cybernet, a commercial research and development lab, relocated to 3885 Research Park Drive, just across State Street from the industrial park.
"It wasn't fun, but it didn't really hurt us," he said. "We had been thinking about a new building with more space for years, so this brought us into action."
Chris Erickson of Symorex agreed and said moving was inconvenient, but the business has now settled in a different space within the industrial park, right across from Zingerman's Bakehouse.
"Jake was very supportive of the people that had to move," Erickson said. "Moving is always a pain, but it was understandable. And it gives you an opportunity to look forward."
Other businesses that relocated to new buildings in the industrial park included PKSA Karate, Body Specs, Inc. and Kantner & Associates.
Campbell Mechanical Inc. moved to a location in Ypsilanti Township on James L. Hart Parkway. Mayaterials moved to a space on Highland Drive in Ann Arbor.
Final plans for the Costco warehouse store received approval from the Pittsfield Township Planning Commission in early August. Officials have said the store could be open by summer 2012.
Although Haas declined to comment on an official timeline for Costco construction, he said he looks forward to having the new business in the area.
"It's great for the community," he said. "The jobs it's going to produce, the income it's going to bring to the area. It's just a positive win-win for everybody."
Lizzy Alfs is a business reporter for AnnArbor.com. Reach her at 734-623-2584 or email her at lizzyalfs@annarbor.com. Follow her on Twitter at http://twitter.com/lizzyalfs.