Posted on
Sat, Aug 28, 2010 : 6:04 a.m.
Now hiring: In-stand vending returns to Michigan Stadium for 2010 football season
By Janet Miller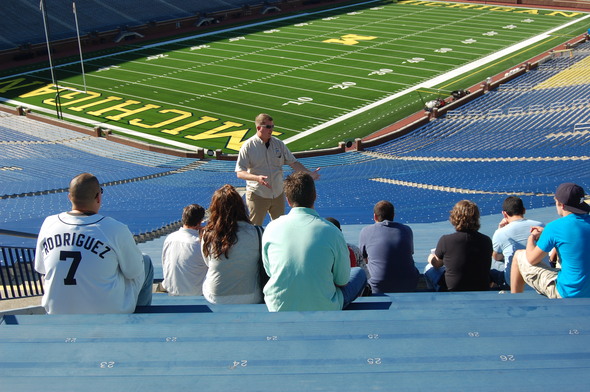 Janet Miller | For AnnArbor.com
An old tradition is returning this season to the newly expanded and renovated Big House: Vendors in the stands.
For the first time in at least two decades, vendors selling beverages and snacks will walk the stands of Michigan Stadium.
Job fairs began last week to fill about 200 positions needed for the seven home University of Michigan football games, said Matt Young, owner of South Carolina-based Event Management Solutions.
Anyone who submits an application can have a chance at vending, Young said: "We're constantly hiring."
Thinking about vending?
A good hawker can make $200 a game, said Matt Young, owner of EMS, the subcontractor that will run the in-seat vending operation at the Big House. But the work isn't easy. The secrets to good vending, according to EMS:
Carry as much product as possible. This can mean 20 pounds or more.



Make your way to the bottom of a section aisle.



Advertise the product by calling out and visually holding the product up in the air.



Scan the crowd and make eye contact.



Try the make the sale at the bottom of the row so fans can see you selling.



Go to customers who don't come to you. This may mean hustling up 70 or more stairs and hustling back down.

The fine print:

Vendors make their commission in cash. They purchase a bottle of water or soda pop, for example, for $3.60 and sell it for $4. The difference - plus tips - is their earnings. They get credit for products not sold.
Vendors are given a shirt with the prices printed on it, and must hand it back in at the end of the day. They can buy the shirt for $6

The job isn't for the weak: Hawking snacks at the Big House requires repeated trips up and down 72 steps while lugging about 20 pounds of merchandise. Football fans - 108,000 will fit in the newly renovated stadium this year - either cheering a play or doing "the wave" adds more variables to a vendor's typical workday. Add rain (or snow), and the hopes for a decent tip might turn into an expectation.
"Folks weed themselves out. After the first game, maybe 40 vendors will decide that it's not the right job for them," Young said. "If they do the job well, they continue to come."
The in-seat vending for home games was resurrected as a result of the $226 million renovation, which will alleviate at least some of the crowding, said Bruce Madej, associate athletic director for communications.
"We're back to the point where we will be taking concessions out to the stadium. Years ago, we used to do it, but the crowds got so big it became impossible. 
"Before, when you'd walk in the stadium, you felt like fish spawning in a stream," he said. "Now, there is more room between the aisles." 
In-seat vending will offer a better experience for fans, Madej said, who won't have to spend time standing in line in the concourse and missing the action. "Now it will be a better experience for the fan base, not just for those in the suites."
But the move comes as a change in rules this year will prohibit fans from bringing their own bottled water, even in unopened containers, into the stadium. The university has said free water will be available inside the stadium and more water fountains have been added.
Event Management Solutions is subcontracting the in-seat vending operation for Sodexo food service, the new U-M athletic campus concessionaire. Sodexo replaces V Gladieux after winning a 10-year contract with the athletic department for football and other athletic events, Madej said. Information on projected revenue under the contract was not immediately available, he added.
EMS handles in-seat vending for universities such as Ohio State University and the University of Texas, the NFL, minor league baseball and NASCAR events.
At the Big House, EMS vendors will sell bottled soda pop and water ($4), hot cocoa in commemorative mugs ($8), Cracker Jacks ($4) and other snacks such as packaged cotton candy. They will not sell beer or hot dogs.
Vendors earn 10 percent of the retail price along with tips and have the potential for earning $200 a game, Young said.
In just the first hour of a vendor open house held Thursday at the stadium, Young said he had received 80 applications.
Vendors, who arrive five hours before game time, can show up on game day, fill out the paperwork and beginning working the stands, he said. They wear shirts with the prices of the products on them.
Venders span all ages and experiences, Young said. One of the first in line at the open house was an older man who had worked as a hawker at the Michigan stadium when he was a boy, Young said.
"He was really excited to get back to it."
At the open house, vendors were taken in small groups into the stadium and given instruction.
Anthony Fleming of Ann Arbor attended the open house. He has been out of work since January and was hoping to pick up some extra cash as a vendor. He's looked for employment in Ann Arbor, Ypsilanti and in western Washtenaw County.
"I haven't found a thing, not even a call back," he said. "At this point, I'll do anything. This will help me out for right now."
Vending will allow him some income along with the chance to meet people from all over the country, he said.
Kelsey Gensler of Monroe has a day job and likes the idea of picking up some extra money. But she also likes the idea of being around the action.
"I love Michigan football," she said. "Instead of paying to see it, I'll be able to make money while seeing it and be part of the tradition."
Janet Miller is an Ann Arbor-based freelance writer. To reach Matt Young of EMU, email matt@emsvending.com.