Posted on
Fri, Mar 1, 2013 : 5:58 a.m.
Ann Arbor student startup aims to make bikes available for quick rentals
By Ben Freed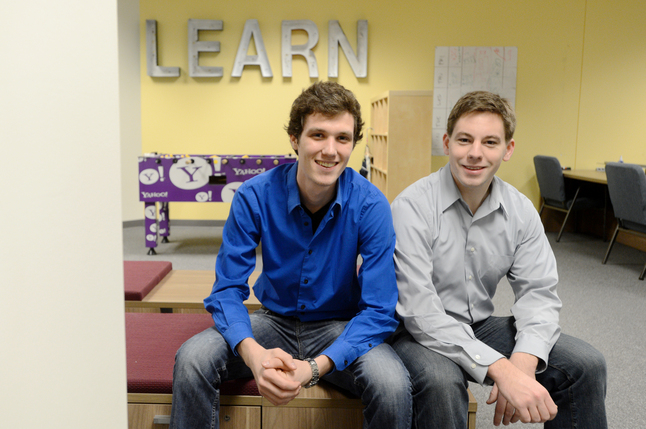 Melanie Maxwell | AnnArbor.com
Bike sharing programs, designed to make biking affordable and easy in urban environments, have
caught on like wildfire in Europe
but have been slow to make inroads in America.
The co-founders of A2B Bikeshare think the problem is that no one in the US has found the proper balance between program price and quality.
"We saw a market with issues and we said, 'we're engineers at the University of Michigan, we can probably build a better mousetrap,'" co-founder Keith Porter said. "Or in this case, a better bikeshare system."
Porter said primary methods have been used in bike share systems, and that both have significant downsides. Some systems use free-floating cheap bikes that can be picked up or dropped off anywhere by the renter. At the other end of the spectrum are systems with "smart racks" that function as docking hubs for the bikes, ensuring proper return.
"The problem is with the cheap bikes they tend to break or disappear," Porter said.
"… The high-tech end is extremely expensive and can cost about $4,000 per bike just for the set-up costs. Interestingly, it's the more expensive systems that have been catching on in the last few years. Cities don't want to keep throwing money at bikes that are going to get lost so they go with the very sturdy, very well-maintained, well-branded systems."
Porter and co-founder Ansgar Strother have developed a "smart bike, dumb rack" system designed to take the best elements of the higher-end products while drastically cutting costs.
"It has the same core functionality, but it is only half the price," Strother said.
"Where in a smart-rack you have to install a kiosk which can involve ripping up concrete to lay power lines and using large amounts of electricity, we've moved the kiosk onto the bike as a console with a touchscreen."
The console is powered by a solar panel on the back of the bike and is connected to a bike lock that can tell when it is attached to a proper rack. To rent a bike, customers would swipe a credit card and follow instructions on the touch-screen. Bikes could be picked up and returned at a number of locations around the city.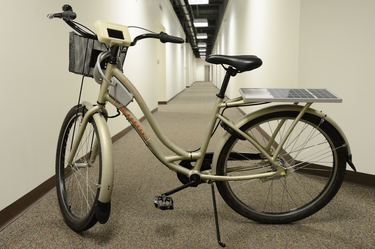 Melanie Maxwell | AnnArbor.com
"The screens can also be used for
Google maps
for directions, for guided tours for tourists," Strother said. "Tourism is a big reason a lot of cities are investing in these technologies."
Ann Arbor is going to be investing in a bike share program in the near future, and A2B Bikeshare finished their prototype, more than six months in the making, just in time.
"As of the first week in January, it's operational," Porter said.
"So right now you could actually walk up to this bike and rent it, which is pretty cool."
A functional bike could not have come at a better time as the Clean Energy Coalition recently secured at least $600,000 in grant money to start a bike-sharing program in Ann Arbor and released a request for proposals on Dec. 28.
"While we're a startup and don't necessarily have a track record, we'll be submitting our proposal because in the long term we think our system has a much better opportunity to cover all of Ann Arbor," Strother said.
"With the high costs of other systems they would only be able to afford 80-100 bikes which could only serve the downtown core. With our lower costs and we're able to talk about providing service to North Campus and other parts of the community."
Strother said in an email that A2B was not selected as Ann Arbor's bikeshare program due to the company's lack of experience despite coming in at the lowest price point amongst the proposals.
The final decision on which bikesharing program to implement in Ann Arbor will not come for another month.
The Michigan Difference
The pair have benefitted greatly from the University of Michigan devoting more resources to creating an entrepreneurial environment for its students.
As undergraduate computer hardware-engineering students, Strother and Porter came up with their idea for a startup in an entrepreneurship class. Once founded, their company has been housed in TechArb, the university's student startup incubator.
"We've been really fortunate to get a lot of great support and mentorship here [in the incubator]," Strother said.
"The people here and at Menlo next door have really mentored us on the business side. We've gotten a really good in-depth lesson on how to go and hit the pavement, do customer discovery, and really learn about our customers. Then we were pushed out to do it."
As their business developed, the pair also received advice and support from the U-M Law School Entrepreneurship Clinic, a newer program that provides pro bono legal services by law students to student startups.
Even though they were not the chosen Ann Arbor project, A2B Bikeshare did win a $15,000 prize by taking second place at the Michigan Clean Energy Venture Challenge.
Both Strother and Porter say they plan on sticking with the company past graduation.
"If we're making progress on this, and we'll have a pretty good idea if we are in a year [when we graduate], we're going to stick with it," Strother said.
"This is something we're in for the long haul and we want to see it happen in communities across America."
Ben Freed covers business for AnnArbor.com. You can sign up here to receive Business Review updates every week. Reach out to Ben at 734-623-2528 or email him at benfreed@annarbor.com. Follow him on twitter @BFreedinA2