Posted on
Fri, Oct 29, 2010 : 5:59 a.m.
Subway to open in January at 4 Eleven Lofts downtown Ann Arbor student high-rise
By Lizzy Alfs
A year and a half after Ann Arbor's 4 Eleven Lofts opened on the corner of East Washington and South Division, the building's first retail tenant now plans to open on the first floor of the student high-rise in January.
According to an AnnArbor.com story in September, the deal to open a Subway location in the street-level retail space of 4 Eleven Lofts has been in the works for a few months.
Now franchisee Randy Munroe said the lease was signed in October.
Munroe, who is co-franchisee with his wife, Denise, said they met with Michael Buss Architects out of Illinois and interior construction for the restaurant should begin soon. It will be completed by Jan. 3.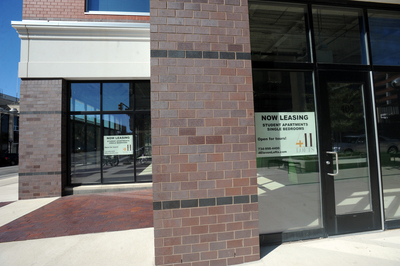 AnnArbor.com files
After owning seven different Subway stores in the Metro Detroit area over a period of 17 years, Munroe said he and his wife sold their last business after he was transferred out of state for his job in the railroad business. After being transferred back to Michigan, the couple decided to open in Ann Arbor.
"We love the area," Munroe said. "We like the whole atmosphere."
Subway development agent Kip Klopfenstein worked on the Subway deal for 4 Eleven Lofts, and he said the downtown location should be great for business.
"There's a lot of foot traffic," Klopfenstein said. "There's students and I think we'll get a lot of people employed around the area."
Munroe agreed and said between the hundreds of students living in the building and nearby businesses like Google, this location will be a "pretty strong site."
Munroe said the Subway site is one of four slotted retail spaces on the first floor of the 4 Eleven Lofts high-rise, but he is not concerned about potential competition.
"I know a number of other retailers looking [at the sites]," Munroe said. "Food venues can compliment each other."
The developer of 4 Eleven Lofts, Joseph Freed and Associates, would not comment on further retail leasing efforts at the site.
Lizzy Alfs is a freelance reporter for AnnArbor.com. Reach the business news desk at business@annarbor.com or 734-623-2586.