Posted on
Thu, Jun 21, 2012 : 5:51 a.m.
Growing Ann Arbor supply chain design company draws international crowd to conference
By Ben Freed
There were two sources of inspiration for Llamasoft's name. The company, which creates supply chain design software, took its name from both the South American pack animal, known for its versatility and ability to get material where it is needed, and the Dalai Lama, who CEO Donald Hicks admired for his deep philosophical and strategic thinking.
Llamasoft is hosting its second annual SummerCon convention on supply chain design this week (June 20-22) at the Michigan League in downtown Ann Arbor.
Close to 200 Llamasoft customers from more than a dozen countries will gather to share user experiences, learn best practices, and hear from Llamasoft experts as they attempt to design more cost efficient supply chains.
The conference will include breakout sessions and keynote addresses including one from Lieutenant General William Pagonis, Director of Logistics for the United States Army during the 1991 Gulf War. General Pagonis will challenge attendees to think about, among other things, whether their supply chain would be able to hold up in a war zone.
"Traditionally people haven't focused on the design of supply chains, they've only focused on supply chain management," Toby Brzoznowski, Executive VP of Llamasoft, said. "A lot of these companies have billions of dollars locked up up in their supply chains, and you can only get so good at being a little more efficient."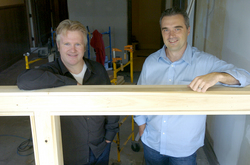 File photo | AnnArbor.com
Llamasoft's software helps companies to design (or re-design) their supply chains from source to customer. This overhaul can lead to savings for companies who move millions or billions of dollars worth of inventory on a daily basis. The software aids companies in decisions ranging from where to source materials to what mode of transportation will work best, to assessing how much taxes and tariffs will cost as their products leave and enter various countries. Companies that have purchased software from Llamasoft include Coca-Cola, Toys'R'Us, Target, Nike, and Intel.
Thanks to these major purchases, Llamasoft has been growing rapidly rapidly over the past year and a half, from 50 employees to 120. According to executive vice president Toby Brzoznowski, over 90 of the company's employees are in Ann Arbor, and they are running out of room in their current location.
"When we first moved in to this office [the fourth floor of the First National Building on Main st.] we were wondering how we would ever fill this much space," Gary Bobalik, the company's director of marketing, said. "Now, we're busting at the seams."
According to Brzoznowski, the company is committed to staying in downtown Ann Arbor, which has been their home ever since they started a two-man company above what is now Grizzly Peak on Washington St. just one block away.
Ben Freed covers business for AnnArbor.com. Reach him at 734-623-2528 or email him at benfreed@annarbor.com. Follow him on twitter @BFreedinA2