Posted on
Thu, Nov 8, 2012 : 11:52 a.m.
Sweetwaters expands: Ann Arbor-based coffee shop to open first Ypsilanti store
By Lizzy Alfs
Melanie Maxwell | AnnArbor.com
A 20-year-old local coffee shop plans to expand beyond its
Ann Arbor
roots when it opens its first
Ypsilanti
location in January.
The owners of Sweetwaters Coffee & Tea signed a lease last week to open in the recently renovated building at 729-735 W. Cross St., across from Eastern Michigan University's campus.
The shop's general manager, Laurie Vaquera, announced the news to a group of Ann Arbor business owners during a downtown tour Thursday morning.
"We've done the University of Michigan thing, so we wanted to try out a different place," explained Vaquera. "I think Eastern is going to offer its own unique set of students and we'll be right across the street from them."
Founded in 1993 by Wei and Lisa Bee, Sweetwaters has three locations in Ann Arbor: one on East Washington Street downtown, one in Kerrytown and one on Plymouth Road. The Kerrytown and Plymouth Road stores are franchises.
Vaquera, who called the Cross Street building "very modern," said Sweetwaters should be a perfect fit for the space.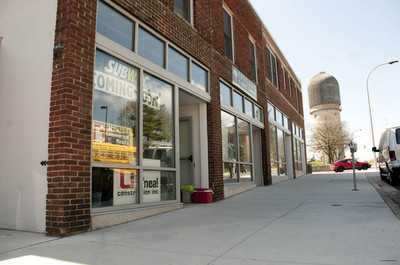 Tom Perkins | AnnArbor.com
Ann Arbor's O'Neal Construction renovated the building after purchasing it in 2011.
First floor retail tenants include a Subway sandwich shop and Ypsilanti T-shirt Co. shop. Once Sweetwaters opens, there will be one retail space remaining. It is listed for lease with Bob Andrus of Michigan Commercial Realty for an annual $25 per square foot. The building has apartments on the second floor.
"I think, in that area, there are not a bunch of Starbucks, Caribous. We'll be next to a Subway and there's a T-shirt shop, I think we're the next obvious thing," Vaquera said. "You can come right in and get your coffee, and a lot of kids like to do their studying here. We offer free Wi-Fi and things like that."
Vaquera will oversee the corporately owned Ypsilanti shop, which she hopes to open at the end of January. She plans to hire at least eight people.
"This has been in the works, and we've just been thinking about it. I think we had some feelers out…we're very excited about it," she said.
Lizzy Alfs is a business reporter for AnnArbor.com. Reach her at 734-623-2584 or email her at lizzyalfs@annarbor.com. Follow her on Twitter at http://twitter.com/lizzyalfs.