Posted on
Tue, Dec 21, 2010 : 3:44 p.m.
Targeting public employees' collective bargaining rights unlikely, Rick Snyder says
By Nathan Bomey
Michigan Gov.-elect Rick Snyder, who has indicated that he believes public employee compensation cuts are necessary to stabilize Michigan's budget, told the Detroit News in an interview that he doesn't think it's necessary to restrict public employees' collective bargaining rights.
Fighting to eliminate collective bargaining rights is "probably 'not a viable option in the Michigan system,'" the News reported.
Michigan law allows public workers to negotiate contracts through unions.
Snyder's comments came as Wisconsin Gov.-elect Scott Walker is considering a fight to remove public workers' collective bargaining rights, the Wall Street Journal reported last week.
Indiana and Missouri have also eliminated public workers' collective bargaining rights in recent years, WSJ said.
Snyder told the Republican Governors Association at a meeting in November that public employee costs need to be "comparable with the private sector."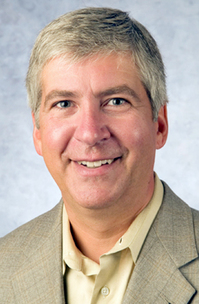 Snyder, who takes office Jan. 1, told AnnArbor.com in October that cuts were needed but that he "wouldn't take away anything that's already been earned by anyone." He dismissed the suggestion that previous cuts were sufficient and suggested he wants to institute long-term reforms.
"All the proposals that have gone before are all flawed in some fundamental fashion," Snyder said. "Let's get a solution that's going to work for 10 or 20 years. It'll ask for shared sacrifice, but the question is, can we do a solution then that these people don't need to be looking over their shoulder each and every year?"
Contact AnnArbor.com's Nathan Bomey at (734) 623-2587 or nathanbomey@annarbor.com. You can also follow him on Twitter or subscribe to AnnArbor.com's newsletters.