Posted on
Fri, Jan 4, 2013 : 5:58 a.m.
Bankruptcy auctions yield $400K for dozens of Kircher properties
By Tom Perkins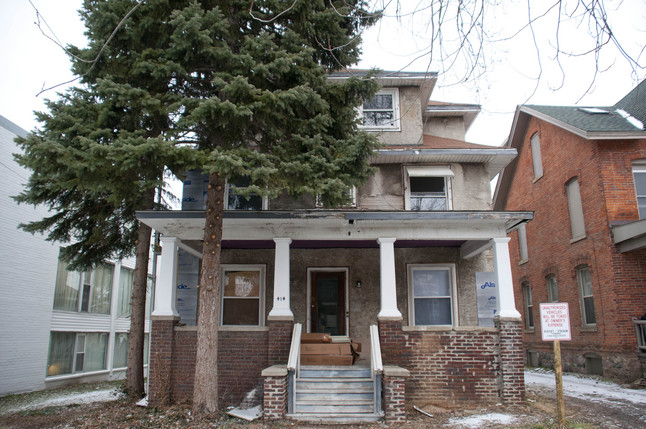 Tom Perkins | For AnnArbor.com
Last winter, a pipe bust in the third-floor bathroom of a home at 414 Perrin St. in the city of Ypsilanti. According to reports from Ypsilanti firefighters, the resulting flood ran out a wall and created an ice dam down the side of the house.
The property sat on the city's dangerous buildings list, but building officials performed a rental inspection there last week as its new owner makes final preparations to bring the home up to code for rental.
The house was one of more than two dozen properties owned by jailed landlord David Kircher in the city of Ypsilanti and Ypsilanti Township, all of which were either sold in the past nine months by a bankruptcy trustee or during bankruptcy auctions featuring only his properties.
Officials and residents are hailing the effort as a victory for the municipalities on multiple levels. Although the minimum bids weren't met on all the properties, enough were and enough money was made through property purchased from the trustee to cover more than $400,000 in back taxes, late fees, interest and other charges.
There will be no chargebacks to the municipalities - two properties also were in Whitmore Lake - which is a positive for the governments and school districts' budget.
"This is a tremendous accomplishment and the local units are happy with it," said Washtenaw County Treasurer Catherine McClary. "I can't begin to tell you how positive that is. Everyone is excited about the success of the auction."
It also has direct impact on neighbors' property values and neighborhood morale, perhaps most notably on South Summit Street in Ypsilanti, where four Kircher properties were sold. That included Kircher's private residence, which was recently acquired and is being remodeled. Also among the group were several homes that served as a base for neighborhood drug dealers and prostitutes.
Karen Maurer, who owns Maurer Management with her husband and lives on South Summit Street, purchased a home at 46 S. Summit Street at a July auction.
The Maurers were only allowed to see the home's exterior before purchasing it for $20,200, and they were pleasantly surprised with what they found inside - little water damage, and a home that had generally been sealed well.
They are renovating the home and have a rental inspection scheduled for February.
"What this does for our block is put four houses back up and running," Maurer said. "Some of these have been boarded up for years, and it's a shame. I asked people coming to our house to come from the other direction because those houses looked so horrible. This significantly helps out our block."
Kircher is serving a five-year prison term for illegally pumping raw sewage into the Huron River from the Eastern Highlands apartment complex on LeForge Road in Ypsilanti Township.
The Eastern Highlands was Kircher's largest asset, and it sold for $1.21 million in a bankruptcy auction in October.
Ypsilanti Township Building Director Ron Fulton toured some Eastern Highlands units several months ago and described the interiors as "like a jungle" and full of vegetation. He said he was pleasantly surprised at the renovation's progress when he toured it more recently.
Stewart Beal, who owns the Thompson Block building in Depot Town, bought a vacant lot on Cross Street next door to the building for $32,000. He also owns the property on the east side of the vacant lot, and said one possibility in the future is a parking lot for his properties and Depot Town.
The sales also were a victory for the Washtenaw County Treasurer's Office. In February, two days before McClary was ready to take around 30 Kircher properties into tax foreclosure, Kircher declared bankruptcy, which automatically placed a stay on any action against his properties.
Unable by law to foreclose on the properties, McClary intervened in the bankruptcy trial in bankruptcy court in Detroit. McClary said a judge agreed allowing Kircher to stall the sale of his remaining deteriorating properties was not in the public's best interest and approved a motion for a bankruptcy trustee to oversee Kircher's asset. They were originally offered in a package by Collier's International.
All but 12 were sold over the summer, and the remaining 12 properties sold in an auction at the end of November.
McClary attributed the success of the campaign to sell the houses to the community's awareness of the properties and knowledge that they were buying neglected buildings.
"It turned out to be a winning situation for everyone. The taxpayers clearly won by getting the back taxes paid, the city and township are really in a good position now and seeing that the new owners are getting everything up to code," McClary said. "And the neighbors are big winners because they get to see their property values go up and not have that blight in their neighborhood anymore."
Tom Perkins is a freelance reporter for AnnArbor.com.