Posted on
Tue, Nov 23, 2010 : 11:09 a.m.
Tecumseh Products buys 50,000-square-foot office building in Pittsfield Township
By Paula Gardner
A 50,000-square-foot speculative office building near South State Street that never found a tenant and went back to the lender has a new owner: A longtime local manufacturing company.
Tecumseh Products bought the building in State Street Business Park, closing on the deal on Friday.
Corporate officials declined to comment on the deal this morning, saying that they're still working out details on how the building will be used and a timeline. More information is expected to come from the company within the next week.
Jim Chaconas of Colliers International, the listing broker on the building at 5725 Hines Dr. in Pittsfield Township, called the property a great building and said the purchase suits Tecumseh Products.
"They're a great company," he said. "They were looking to lease, but this worked out (to be more efficient)."
It's the second major building purchase in the South State office market this month: Phoenix Contact just bought the former Atwell Hicks building at 525 Avis Dr., converting it into their expanded local division headquarters.
The new Tecumseh Products building had been built by Kirco Co., a Troy-based real estate development company.
At the time it was built, the South State office market was improving and several companies were shopping for space - prompting the company to build on spec. It also had recently leased a nearby building to Assay Designs.
The building is in the "flex space" style, with room for finished offices and 19-foot ceilings with bay doors, allowing some light transportation functions.
The interior had never been finished.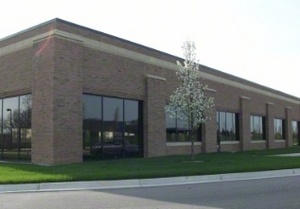 From Loopnet
As the economy turned, the building ended up back in the hands of its lender, Chaconas said. He listed the property on its behalf, setting a list price of $2.2 million, or $44 per square foot.
Tecumseh Products is a global manufacturer of compressors for multiple types of cooling units, including air conditioners and refrigerators.
It's had a longtime local presence, including a stay in its own building in Ann Arbor's Research Park and more recently in leased offices in Valley Ranch Business Park, where it makes its corporate headquarters after a move from Tecumseh in 2008.
Ted McMullen of the McMullen Co., Tecumseh Products' landlord in Valley Ranch, welcomed the news that his tenant bought the building, calling it a sign of commitment to the Ann Arbor area.
"They've been an excellent customer of ours," he said. "We do not anticipate them making any changes with us (as they add space in the new building)."
Tecumseh Products trades on the NASDAQ stock exchange under the symbol TECUA. Its market capitalization this morning was $242 million.
According to the company's most recent financial statement, third-quarter revenue was $221 million, yielding a gross profit of $24.7 million and an operating loss of $3.7 million. That loss is down from a first quarter operating loss of $39.8 million.
In 2009, Kent Herrick of Saline became chairman of the company's board of directors following a shareholder vote. Herrick's family founded the company, but had been ousted from the company in 2007.