Terumo, still navigating FDA decree, issues recall on heart surgery product
Posted on Wed, Jun 15, 2011 : 11:11 a.m.
Ann Arbor area medical device maker Terumo Cardiovascular Systems issued a voluntary recall for one of its heart surgery products, according to an alert released Tuesday by the U.S. Food and Drug Administration.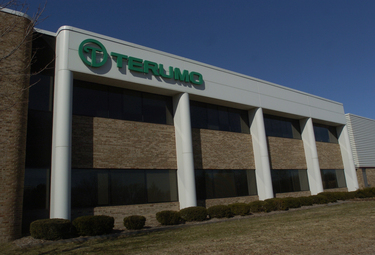 File photo | AnnArbor.com
The recall comes three months after Terumo
agreed to pay $35 million in fines
to the FDA after inspectors discovered production quality problems, supply chain issues and a lack of proper reporting procedures at the company's Scio Township complex.
The recall, which is not related to the consent decree, affects the company's coronary ostia cannula, a product that is inserted into the heart during surgery.
It comes after FDA inspectors, in reports earlier this year, cited an incident in which a Terumo soft flow arterial cannula was removed from a heart surgery patient with a blood "clot found entangled in the diffuser tip of the cannula." The patient later died.
FDA criticized Terumo CVS for not properly reporting and immediately investigating the incident, though the agency didn't assert that the device caused the patient's death — and Terumo later said that its own investigation, conducted in cooperation with the affected hospital, found that the patient died for other reasons.
Barbara Schmid, director of corporate communications for Terumo CVS, told AnnArbor.com this morning that the recall announced this week was for a different cannula device.
Cannulae are "inserted directly into the cardiac tissue to either deliver or drain fluids," she said. "This one is inserted into a different part of the heart than the other one."
Terumo CVS, whose devices are used in more than 1,000 procedures a day throughout the world, employs more than 430 workers in Scio Township.
The recalled device — which Terumo voluntarily pulled off the market — did not cause any patient injuries or surgical crises, Schmid said. She declined to offer sales figures but said the device represented a sliver of the company's total revenue.
According to the FDA alert, the device was recalled because "foreign fragments of adhesive and plastic in the cannula tip may embolize causing arterial injury, hemorrhaging or other serious events requiring unplanned surgery."
Schmid said Terumo discovered "skiving" inside the tip of the cannula that generated concern. She said the product was made by a supplier that refused to adjust its manufacturing processes to fix the error. The product will no longer be marketed.
"We removed it altogether because we were unable to ensure ongoing quality of the product," she said.
The recall comes after FDA investigators specifically cited Terumo's supply chain as a source of concern.
For example, the company continued to contract with a circuit board parts supplier even though that supplier's parts were faulty, the investigators found.
Schmid said Terumo is committed to addressing all of the FDA's concerns. The company is expected to issue a press release announcing the recall later this week.
"There is no question that supply chain is one of the areas that we are addressing in our quality system and we will address in our work plan," she said.
A third-party auditor recently completed an inspection of Terumo's Scio Township facility as part of the FDA consent decree. The inspector this week is expected to deliver a report with recommendations on what Terumo needs to fix.
Terumo will have a month to develop a recommended work plan detailing its proposal for correcting its processes, and the FDA will have a month after that to review the plan and approve or reject it.
In the meantime, Schmid said Terumo CVS has been continuously improving its quality processes.
Terumo CVS, a division of Japan-based $3.88 billion giant Terumo Corp., shares its sprawling 55-acre Scio Township campus with Terumo Heart, a separate division that's not affected by the FDA decree or the recall.
Contact AnnArbor.com's Nathan Bomey at (734) 623-2587 or nathanbomey@annarbor.com. You can also follow him on Twitter or subscribe to AnnArbor.com's newsletters.