Posted on
Wed, Sep 5, 2012 : 5:57 a.m.
'The Big Salad' restaurant to open in new Plymouth Road development in Ann Arbor
By Lizzy Alfs
The Big Salad franchisee Kevin Vlazny hopes to bring "fresh and healthy" casual dining to the Ann Arbor area next year when he opens a restaurant on Plymouth Road.
Vlazny signed a deal for a 1,934-square-foot space in Plymouth Road Plaza — the 21,000-square-foot commercial and office building being constructed in front of Plymouth Road Mall, just east of Nixon Road.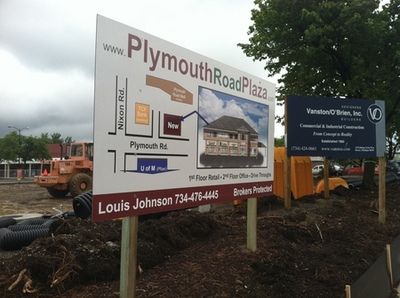 Lizzy Alfs | AnnArbor.com
The Big Salad will join Starbucks, Little Caesars Pizza, DFCU Financial and LaVida Massage on the first floor of the two-story building.
"I chose Plymouth Road because the (University of Michigan's) activity at the (former) Pfizer building, and I actually live on north campus, so I see all the traffic and all the restaurants," Vlazny said. "I feel like it will be a good spot for us."
Founded by John Bornoty in 2008, Grosse Pointe-based The Big Salad now has five locations in Michigan.
"We're excited to be there," Bornoty said. "It's our first location in Ann Arbor and we hope to end up with four. Ann Arbor is obviously in its own world. Between (central) campus, north campus and Briarwood Mall, there are areas we can go that are completely different."
Bornoty said he is actively looking for additional Ann Arbor locations, and said he is eyeing downtown "very closely."
The concept at the restaurant, according to its website: "Salads made for you, not by you."
"The salad ingredients are not handled by the masses, but by one associate who is dedicated to making you the best salad possible," the website says.
Customers can choose from 28 vegetable toppings, eight meat and seafood toppings, eight dry toppings and more than 30 salad dressings. Soups and sandwiches also are available. (View the menu)
Bornoty said prices typically range from $6.95 to $10.95.
Vlazny said he plans to hire about 15 people and hopes to open in March 2013.
"I will be able to begin my build-out at the end of November or beginning of December," he said. "I have 90 days to finish it after that."
Developers Louis Johnson and Jack Edelstein broke ground on the Plymouth Road development in early August after first proposing it in 2006.
Edelstein said U-M's purchase of the former Pfizer site and improved economic factors allowed them to move forward with the project.
Another retail development, The Shoppes at Plymouth Road, recently submitted site plans to the city of Ann Arbor.
That plan calls for a 9,490-square-foot building on the vacant outlot in front of the Holiday Inn hotel, just east of Green Road.
Lizzy Alfs is a business reporter for AnnArbor.com. Reach her at 734-623-2584 or email her at lizzyalfs@annarbor.com. Follow her on Twitter at http://twitter.com/lizzyalfs.