Posted on
Sun, May 19, 2013 : 5:58 a.m.
The Gown Shop wedding boutique expands on Ann Arbor's Main Street
By Angela Smith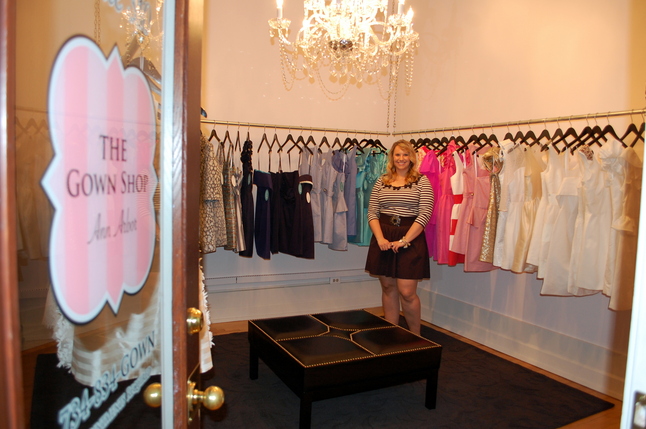 Angela Smith | For AnnArbor.com
After
two and a half years
of serving brides-to-be in the Ann Arbor area,
Stacy Fork
is ready to expand
The Gown Shop
.
The bridal boutique at 122 S. Main is taking on an additional 1180 square feet of space that was formerly occupied by Sithe Global.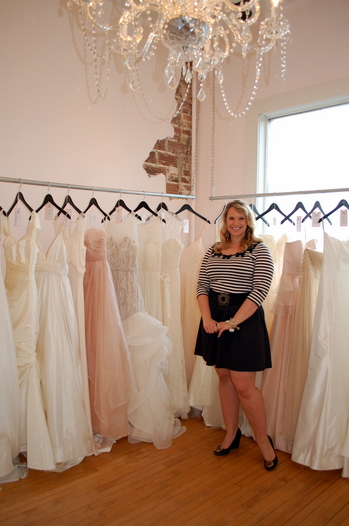 Angela Smith | For AnnArbor.com
The additional space will allow Fork to expand the shop's offerings to include suites separated by price point.
"When we first opened, The Gown Shop started at $2,500+, so that will remain for Suite 320. However, we have added quite a few designers in the past two years - therefore allowing our price point to start more around $1000. Suite 310 will house our gowns ranging from $1,000-$2,500."
Fork also plans to offer more accessories like shoes and locally made jewelry. The accessories are not just for brides, and shoppers also will find dresses and gowns that are appropriate for occasions other than weddings.
"The decision to carry the social dresses was a pretty natural progression, as they can also be used as bridesmaids dresses. However, they are not the standard bridesmaids dress style, so it works for anyone looking for a cute cocktail style dress," explains Fork.
The social dress collection carries dresses in the $260-$500 range. "We also definitely have brides who like the shorter dresses. Also, we love that we can capture an audience that may not be in wedding mode quite yet."
Fork is taking cues from clients in order to stay successful in this market. She moved to Michigan from Ohio, where she was raised in an entrepreneurial family. Her parents own a motorsports dealership, and Fork's sister owns a bridal shop where Fork worked for 2 years before moving to Ann Arbor to start her own business.
Fork, whose educational background is in art and media studies, said she chose to open the store on Main Street because she thought her product would cater well to the Ann Arbor dynamic. ince opening, Fork has run the shop with one employee, and is welcoming an intern to the business shortly. The shop does not do seamstress work, but has both local and national seamstresses that it recommends.
The Gown Shop carries dresses by 10 renowned designers, which she has exclusive rights to in Michigan. An up-and-coming designer, Ivy & Aster, just shared the news that the Gown Shop is second only to a shop in New York City for international sales this quarter.
Fork feels that it's her passion for the business that sets The Gown Shop apart, and generates its success. She works long hours, nearly 7 days a week, and works hard at making a strong connection with each bride she works with.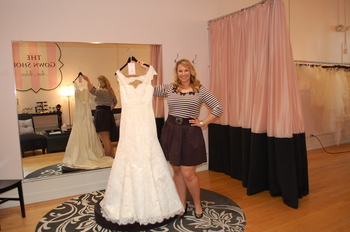 Angela Smith | For AnnArbor.com
The business sees plenty of referrals, and gives brides an option for consigning with The Gown Shop even after their wedding day. Consigned gowns sell for a fraction of the price and still are quality made gowns from exclusive designers.
Fork says the additional retail space took about two months to ready for business. There are plans in the works for a grand opening, but Fork is welcoming shoppers and brides to check out the shop by appointment or during open hours.
Though being a business owner has its ups and downs, Fork credits her surroundings to her success: "I'm so thankful to the Ann Arbor and state of Michigan for being so wonderful to myself and The Gown Shop in these 2+ years so far. We have a lot of brides who travel from Ohio, Chicago and Canada because of the exclusive designers we carry - it's fun to bring visitors to Ann Arbor!"
Angela Smith is a freelance reporter. Contact the AnnArbor.com business desk at business@annarbor.com.