Retail report:

The Rocket plans to expand into renovated downtown Ypsilanti storefront

Posted on Mon, Nov 1, 2010 : 6 a.m.
The Rocket candy and novelty shop, located at 103 W. Michigan in downtown Ypsilanti, is moving across the street into one of the retail storefronts of the newly rehabbed historic buildings owned by Maurer Management & Properties Inc.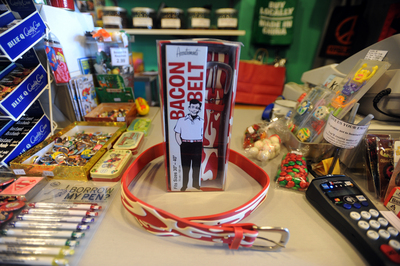 AnnArbor.com
"We've outgrown the store and need more space to display our merchandise," explains Eli Morrissey, who co-owns the store with Paul Balcom.
"As a candy novelty store, we have a lot of very small items and it was getting harder for people to shop and move around."
At 2,000 square feet, the new location will more than double their current space of roughly 750 square feet.
"Now we're going to spread our current merchandise out more as well as expand the snack side of our business," says Morrissey.
Customers will see more in the way of novelty candy, as well as an expansion of drinks including the old fashioned Faygo pop they carry in glass bottles.
"We want to expand our snack offerings from the local companies we carry such as Bettermade chips as well as the Ypsi-centric tee shirts we sell."
In addition to the full basement that can be used for storage, another appealing feature of the new building is its location. The property is 120-124 W. Michigan Ave.
"The area over there is more high-traffic," says Morrissey. "Now we are on the edge of downtown and people may not see us."
The partners plan to keep the same retro style in the new location, using the same color of silvers and blueish green with red flooring.
The timing is perfect, allowing them to get settled before the holiday rush. "We are going to start moving (this) week and should be settled in by the middle of the month."
Karen Maurer of Maurer Management & Properties is pleased with the new tenants.
"I think it's a wonderful addition to have Rocket move in. We restored the space for them with tin ceiling and all new lighting. Everything is brand new, including the furnace. I was just over there and it's gorgeous."
A hair salon, a current tenant at another Maurer property, will be moving into the second retail space next month.
"It's ironic in this economy that the two people we found needed space to expand," laughs Maurer.
The third retail space is currently being rented short term to the Democratic Party but will be vacated by Nov 15. In addition, the Maurers just received financing to begin renovating the top two floors which they plan to make into 12 loft apartments available August 2011.