Posted on
Sat, Dec 1, 2012 : 3:02 p.m.
The Sports Bar at Banfield's Westside is making changes, focusing on sports
By Angela Smith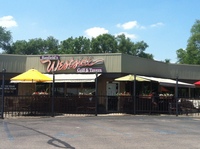 Lizzy Alfs | AnnArbor.com
Banfield's Westside Grill
was acquired by
Rick and Ben Buhr
on June 1 of this year, and the Buhrs made immediate plans to renovate and re-market the bar and restaurant.
The new name of the business, The Sports Bar at Banfield's Westside, reflects the Buhrs' desire to maintain the bar's regular clientele, while striving to attract new faces. The licensing is still in the process of being transferred, according to Tony Bonino, a partner in the venture. Rick Buhr says that the bar is really still in a period of transition, and that the name may change again, in time.
Buhr says that customers will right away notice the changes that have already taken place at The Sports Bar. "When people walk in, it's night and day; they like the changes."
Buhr says The Sports Bar now has more than 20 flat-screen TV's that are all new, and use the latest technology to display 16 different sporting events at a time, if need be.
Though pricing remains the same, the menu is also changing to reflect the casual sports atmosphere. "We started with the Banfield's menu intact, and have been making small changes on the fly ever since."
Another noticeable change is the redesign of Banfield's game room. The area has been remodeled and repurposed as a meeting room that can accommodate private parties of up to 70.
Rick Buhr, who sold Good Time Charley's in downtown Ann Arbor in 2007, had been looking for a new location for a sports bar in the Ann Arbor area. In Banfield's he found an established bar and grill that he can transform into something that fits The Sport's Bar's image. As an established restaurant and business owner, he knows what it takes: "In the restaurant business, you have to be good every day."