Posted on
Fri, Nov 25, 2011 : 1:12 a.m.
Thousands of Ann Arbor area shoppers line up for midnight deals as Black Friday arrives
By Nathan Bomey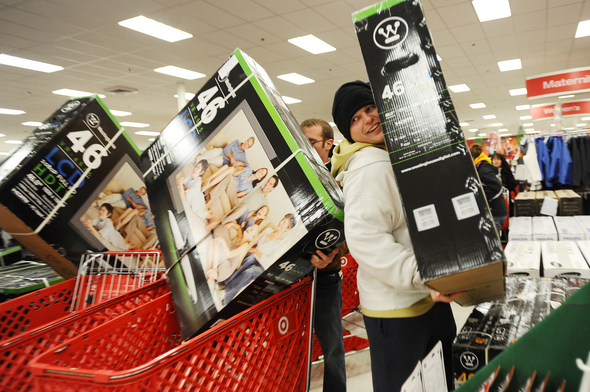 Melanie Maxwell | AnnArbor.com
Thousands of shoppers poured into big-box stores throughout the Ann Arbor area at midnight, lured by "doorbuster" deals and camaraderie as several major national chains opened hours earlier than they've ever opened before on
Black Friday
.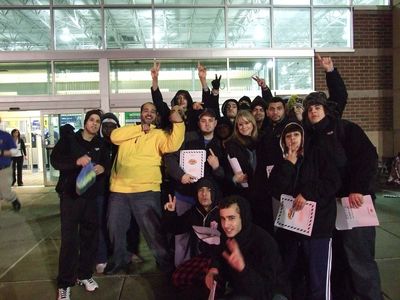 Nathan Bomey | AnnArbor.com
A smattering of scorn and skepticism greeted some retailers' decisions to open at midnight, or earlier — but anecdotal evidence tonight suggested that the moves may be paying dividends.
At the Target store on Waters Road and the Best Buy store on Lohr Road — both in Pittsfield Township — lines to get in at midnight stretched much farther than they did when the stores opened at 4 a.m. and 5 a.m, respectively, on Black Friday in 2010.
A large contingent of uniformed security guards, store associates and police officers maintained a calm atmosphere outside both stores.
At Target, an employee asked a Pittsfield Township police officer to stop shoppers from cutting ahead in line.
At Best Buy, the first group of five deal-seekers set up a tent at 6:30 p.m. Wednesday to await the store's opening. By 9 a.m. Thursday, shoppers had erected about a dozen tents on the sidewalk outside the door.
About 15 minutes before the store opened, hundreds of shoppers were waiting in a line that extended all the way behind the store and wrapped several hundred feet behind the shopping complex.
A group of five shoppers — 27-year-old Belleville resident Donnie Phillips, 24-year-old Ypsilanti resident Billy Doyle, 22-year-old Ann Arbor resident Ndongo Ndaw, 22-year-old Ypsilanti resident John Phillips and 24-year-old Manchester resident Allecia Dicks — got the first spot in line.
They camped out in a tent, warming up with a propane heater and watching the Detroit Lions game on a portable TV.
Half an hour after they arrived Wednesday, a group of 10 Ann Arbor high school friends got to the store at 7 p.m. They camped out in a tent, smoked hookah and tried to order food from Domino's Pizza — which, they said, refused to deliver to the sidewalk outside Best Buy.
After waiting nearly 36 hours to get into the store for TVs, laptops and various digital devices, the dedicated deal-seekers and the rest of the early shopping crowd were particularly chummy.
"We're family!" Donnie Phillips.
"Watch this," another shouted.
"Neighbors!" someone yelled.
"Neighbors!" the crowd responded in unison.
Shoppers indicated the top draw at Best Buy was a 42-inch Sharp LCD TV for $199. Customers who arrived early received a wristband giving them the right to make their desired purchase.
But it wasn't all about the deals.
"This is my sixth year doing this and I meet some of the coolest people I've ever met doing this," Donnie Phillips said.
Ann Arbor resident Omar Hasan, 17, concurred: "We meet new friends."
At Target, the line of shoppers waiting to get into the store stretched hundreds of feet — to the end of the shopping complex — by the time the store opened at midnight. Store associates handed out a "Guide to Savings" brochure to shoppers waiting in line, providing a map for where deals were located within the store. The brochures were a hot item.
When the store opened, security personnel ushered about a dozen people into the store at a time, pausing for about 15 seconds and letting another wave through the doors — presumably to prevent a stampede.
Shortly after the store opened, with the line still hundreds of feet long, one mother walked to the front of the store, claimed her son had to use the restroom and asked to be let inside. She was rebuffed.
Shoppers streamed through the doors, some cheering and some jogging. Others just bolted straight for their preferred deals.
"We're letting in too many!" a Target manager said at one point.
About five minutes after the store opened, Dexter resident Scott Krull was walking out of the store hauling a 46-inch Westinghouse TV he bought for $299.
"We just decided we wanted to de-clutter the living room and get this TV onto a stand," Krull said, and with that, it was off to Sears for power tools.
It took about 25 minutes for the entire line of shoppers to make their way into Target.
Ann Arbor resident Dana Alan was the first through the doors at Target. She secured the first spot in line at 8:30 a.m. Thursday with plans to buy the 46-inch Westinghouse TV.
She later regretted getting to the store so early — since no one else got to Target until 5 p.m.
She admitted it was her first time shopping on Black Friday.
"Otherwise I wouldn't have been here at 8 a.m.," she said.
Contact AnnArbor.com's Nathan Bomey at (734) 623-2587 or nathanbomey@annarbor.com. You can also follow him on Twitter or subscribe to AnnArbor.com's newsletters.