Posted on
Sun, Jul 8, 2012 : 5:58 a.m.
Top 5: Key strategies for downtown Ann Arbor retailers tackling Art Fair
By Lizzy Alfs
Downtown Ann Arbor's annual Art Fair can be a sales hit or miss for local brick-and-mortar retail stores.
The annual fair — planned for July 18-21 this year — can attract over 500,000 attendees that browse and shop on the streets of downtown.
But because the streets from South University Avenue to Ingalls Mall and down to South Main Street are lined with some 1,200 artists selling their work at booths, local businesses are forced to think outside the box in order to attract customers inside.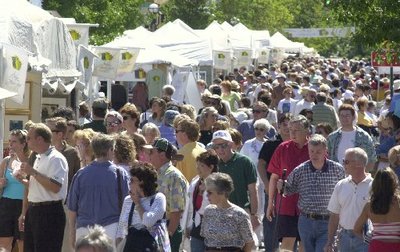 File photo
"People from out of town see the whole city through tents," explained Elmo's T-Shirts owner Elmo Morales, who was one of several downtown retailers that shared Art Fair advice at a Main Street Area Association event last week.
"When it's really crowded (on the streets), people search us out," he continued. "When it's not, it's up to you."
From buying extra toilet paper to overstaffing, here are 5 key strategies retailers employ to tackle the event:
1) Limit inventory
It might be tempting to order and display a surplus of inventory to prepare for the thousands of people that fill the streets during Art Fair.
But Morales, who owns stores on East Liberty Street and South Main Street, said that might not be the best strategy.
"I try not to have my aisles filled with so much stuff," he said. "If (customers) feel claustrophobic, they will leave the store. (Retailers) tend to bring out lots of stuff and that could work against you."
Roger Pothus, owner of Renaissance clothing store on South Division Street, agreed: "You don't want to give people too many choices."
"Give them a small presentation and later change it, and then change it again, instead of trying to get everything you have out there," he said.
Katherine Lesse, the owner of Abracadabra Jewelry and Gem Gallery on East Liberty Street, said she gets inventory on loan from artists and vendors during Art Fair.
The reason: "You don't know what's going to sell at Art Fair. Get it loaned, so you can boost what you have on hand without spending."
2) Offer sidewalk sales
Many retailers agree: sidewalk sales are crucial to drawing customers inside.
Maura Thomson, executive director of the Main Street Area Association, said shoppers at Art Fair are primarily hunting for bargains, which is why it's beneficial to display marked-down items outside.
"Your inventory loses value every month," she said. "Now is a good time to get it out there and discount it, because if you bring it back in the store, you're just losing money."
La Belle Maison owner Maureen Hawley said she uses sidewalk sales outside her South Main Street store — businesses can rent sidewalk space during Art Fair — to get rid of older inventory.
"We mark everything down with red pens so people can see the deal they're getting, and we put clearance stuff outside," she said.
Vault of Midnight owner Curtis Sullivan said that because Art Fair shoppers flock to the lower priced items outside, he orders special inventory for the event.
Lon Horwedel | AnnArbor.com
"The right people will come and find the bigger, unique items in the store, but the little stuff sells great for us outside during Art Fair," he said.
3) Relieve shoppers of heat, crowds
"It's always hot and it always rains."
That's the message from Amy Farnum, director of the gallery shop at the Ann Arbor Art Center, who said the weather tends to be extreme during Art Fair.
In 2010, a strong rainstorm shortened day three of the Art Fair, causing shoppers to head home as artists scrambled to pack up their booths. Last year, sweltering heat kept crowds down and sales low for some artists.
But brick-and-mortar stores have an advantage: they can invite customers inside to relieve them of extreme weather or crowds.
"We get a lot of traffic inside the store for our air conditioning," said Hawley. "Once people are inside, then they'll just buy."
Morales said it's also important to take care of the artists at their booths, since they can be stuck outside for long periods of time.
"Try to be good to the artists in front of your store," he said. "Invite them to use your bathroom and share stuff. It's hard for them, too, and it's a good relationship. We always give them special discounts on our t-shirts."
4) Prepare for the worst
One year during Art Fair, Morales said the air conditioning at one of his stores stopped working and repair people could not get access until after the event was over.
"There are things that happen that you can't be in control of, so you have to think ahead," he said.
He advised to stock up on supplies, including toilet paper, cash register tape, bags and batteries.
Hawley said there are usually some emergencies — such as several heat related health incidents in 2011 — and she once had a woman fall near her store and had to call the hospital.
5) Overstaff
Keri Hardy, manager of Cherry Republic on South Main Street, said she plans to increase staff during the entire Art Fair event this year.
Farnum advised: "Overstaff because some of your people are not going to show up. Everybody gets sick or has something going on."
At Abracadabra Jewelry and Gem Gallery, Lesse said she tries to make it fun for her staff — something she thinks will permeate to the store's customers.
"We try and make it a party," Lesse said. "We also close for three weeks after (Art Fair) to recover so employees have that to look forward to; they know they're going to work like dogs, but then they get a great vacation."
She added: ""It's your biggest advertising opportunity with the people of this town and others that you get all year. If you're staff is really happy and having a great time, even if that's all they communicate, your store will be remembered."
Lizzy Alfs is a business reporter for AnnArbor.com. Reach her at 734-623-2584 or email her at lizzyalfs@annarbor.com. Follow her on Twitter at http://twitter.com/lizzyalfs.